Introducing The Hasselblad X2D 100C Lightweight Portrait Kit, Unleashing The Power Of Storytelling Through Portraits
The Hasselblad X2D 100C Lightweight Portrait Kit features two exceptional lenses, the XCD 1,9/80 and XCD 4/45P, providing photographers with a comprehensive set of professional tools specifically designed to capture compelling portraits.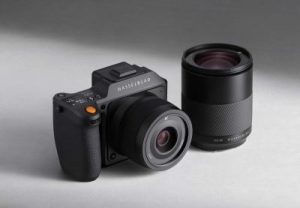 CREATE PORTRAITS THAT TELL A STORY
Designed to empower photographers to create portraits that truly tell a captivating story, the Portrait Kit includes Hasselblad's flagship mirrorless medium format camera, the X2D 100C, along with two outstanding lenses, the XCD 1,9/80 and XCD 4/45P. With the combined power of the X2D 100C and the versatility of these lenses, photographers gain access to a wide range of portrait shooting options in various scenarios, allowing them to capture powerful, narrative-driven imagery.
UNFOLDING A NEW CHAPTER OF IMAGING X2D 100C
With the Hasselblad X2D 100C Lightweight Portrait Kit, photographers are introduced to a new era of imaging possibilities. At the heart of this extraordinary kit lies the X2D 100C, boasting a remarkable 100-megapixel medium format BSI CMOS sensor. This sensor, combined with the innovative Hasselblad Natural Colour Solution (HNCS), ensures that skin tones are faithfully reproduced, mirroring the way the human eye perceives them in both RAW and JPG photos. With 16-bit colour depth, photographers have expanded flexibility in post-processing, enabling them to push the boundaries of their creativity.
To capture crisp and steady handheld portraits, the X2D 100C features 5-axis 7-stop in-body image stabilization (IBIS). This powerful stabilization system compensates for camera shake, allowing photographers to confidently shoot in low light conditions or at slow shutter speeds, resulting in sharp and detailed images.
The X2D 100C takes autofocus to new heights with Phase Detection Autofocus (PDAF) technology. This advanced autofocus system delivers swift and precise focusing at the press of a button, ensuring that every portrait is perfectly captured, even in dynamic shooting situations.
To accommodate the storage needs of professional photographers, the X2D 100C is equipped with a built-in 1TB SSD, providing ample space to store over 4600 RAW photos. This generous storage capacity empowers photographers to capture high-speed, large-batch, and high-quality portrait sessions without the worry of running out of storage space.
Both lenses included in the kit, the XCD 1,9/80 and XCD 4/45P, feature an integral central shutter, offering exposure times ranging from 68 minutes to 1/2000s with full flash synchronization. This versatility allows photographers to explore their creativity even in challenging mixed-lighting scenarios, seamlessly blending artificial flash and natural daylight to achieve stunning portraits.

WIDE-APERTURE PORTRAIT XCD 1,9/80
The XCD 1,9/80 lens is a medium format wide-aperture autofocus lens that is designed to produce breathtaking results that center resolution and color accuracy. Crafted with an advanced and intricate optical design, coupled with creative calibration technologies, the XCD 1,9/80 lens delivers exceptional optical performance, ensuring stunning image quality even at its widest aperture of f/1.9.
The XCD 1,9/80 lens excels at creating a mesmerizing bokeh effect, creating graceful and smooth transitions between the sharp areas in focus and the softly blurred periphery. Additionally, when used with the X2D 100C camera, it unlocks the full potential of the 100-megapixel sensor, striking the perfect balance between sharp, in-focus areas and beautifully rendered bokeh.
ENVIRONMENTAL PORTRAITS WITH EFFORTLESS GRACE XCD 4/45P
Complementing the XCD 1,9/80, the XCD 4/45P is an ultra-lightweight and compact medium format autofocus lens is specifically designed for capturing portraits in narrow spaces. With its 36mm equivalency, this lens offers flexibility in composition and enables the inclusion of contextual elements, adding depth and narrative to portrait photography. Despite its compact size and weight1, the XCD 4/45P boasts an exceptional optical design comprising seven elements in nine groups, including two aspherical elements. The result is state-of-the-art optical performance within compact dimensions, enabling the X2D 100C to capture breathtakingly high-quality imagery.
The Hasselblad X2D 100C Lightweight Portrait Kit has an MSRP of EUR €13,489 including sales tax and USD $13,049 excluding sales tax. It is now available to order immediately. See details of the new product at www.hasselblad.com .
1 The XCD 4/45P lens weighs 320g (excluding the lens hood and cap) and measures in at just 47mm in thickness.