Mentoring for Photographers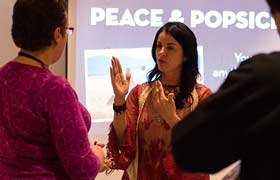 Free photographic mentoring for members*.
When there is such a choice of representative organisations out there, you may ask yourself, 'Why The Societies of Photographers?' To us the answer is very simple. If you are a newcomer to the industry or considering a career change then we provide several membership benefits to help you identify your most needed areas of advancement, and we assist you to plan and carry out activities designed to develop your key skills and knowledge within your field, as well as providing support whilst you apply your learning. The profile of our membership contains many individuals who have enjoyed active careers in many of the traditional 'professions' and to whom 'professionalism' is second nature, and we provide quality training and mentoring to all who ask and want to progress in photography without prejudice or discrimination. If you are already in practice and want to gain that all important edge over your competitors, then we can help you too.
Our Mentoring Programme is part of our Continuing Professional Development initiative and is utilised by many of our members. Through this invaluable programme our dedicated team of Fellow, Master and Grand Master Photographers provide one to one appraisals of work and advice for progression through written reports.
The Mentoring Programme is a designed to be a cycle, with unlimited access available to our 'Professional' level members. It is a process of submitting images for critique, receiving written reports from the allocated Mentor and then applying the new knowledge gained to produce further images to submit in a cycle of CPD (Continuing Professional Development). The program is designed to assist our members with preparing to submit for Qualifications, although some members use the advice given to improve their entries for our Monthly Image Competition and Annual 20×16″ Print Competition also.
Mentoring through this programme is available in a variety of disciplines including (but not restricted to) Wedding, Portrait, Fashion, Illustrative, Commercial, Wildlife, Nature, Travel, Sport and Events. Each set of images is reviewed upon submission by Terrie Jones, Professional Development Manager, and an appropriate Mentor is assigned based on the type of images and the experiences and qualifications held by our Mentors. Once a Mentor has been assigned the images are then sent for review and a report is written, this process usually takes 4-6 weeks.
Once members receive their written report the onus is on them to take the advice given and apply it to their work before submitting another set of images to us, although this may seem a daunting prospect some of our Mentors do offer additional support through this process by the way of email communication if needed. As previously stated, the Mentoring Programme is designed to be a cycle of learning and growth, so it is advisable to members to submit subsequent sets of images for critique once they have applied the advice given in their written reports so that our Mentoring Team can continue to provide guidance and support throughout the process of development. Professional level Members who use the Mentoring Programme as a way of gauging the standard of their work prior to submitting for Qualification are far more likely to gain Licentiate, Associate or Fellowship Qualifications on their first attempt than members who do not utilise this free and unlimited benefit of membership.
In an effort to make Continuing Professional Development available to all our Mentoring Program is available to our Enthusiast and Retired members, although restricted to two submissions per calendar year, and to Digital members/non-members for a fee.
Submission Guidelines
To try and avoid any confusion in submissions for the Mentoring Programme please follow these guidelines when submitting your images for critique.
1. The submission must take the form of 20 Images in .jpg format, sequentially numbered 01.jpg to 20.jpg
2. The images must be of one genre i.e. all Wedding, all Portrait, all Events, all Sport etc.
3. Files may be up to 4mb in size.
4. The 20 .jpg files should be placed in a single folder and compressed (zipped) prior to submission.
5. We require the zipped folder to be named as follows: firstname_surname_mentoring_membershipnumber.zip
Once you have prepared your files for submission please fill in the Mentoring application form, once completed you will be transferred to our MailBigFile upload facility which will send your images direct to The Societies of Photographers Mentoring Team for review. Should you, upon receipt of your report, wish to have the submission considered for Qualification then a separate application and the appropriate fee must be paid via the Qualification Application Form. The submission will then be forwarded for considered by three Fellows in the case of Licentiate and Five in the case of Associate and Fellow.
Meet The Societies of Photographers Judges
Submission Rules
Entrant must have solely captured and created the original photographs, this includes all composited elements within an image.
All digital manipulation must have been performed by the entrant.
Any images that violate copyright, trademark or any other applicable law will not be considered.
The entrant's name, or any other distinguishing marks, must not appear on the face of the images.
Images submitted for mentoring ideally should have been captured within 24 months of the submission date. Exceptions may be made in the case of composite images, where elements of the image were captured by the photographer outside of the 24 month time period.
No entry will be eligible that has been made under the supervision of an instructor, in collaboration with another photographer (not including mentoring), or as a class assignment.
Images need to be all of one genre.
Any entry which has been reproduced from an existing photograph, portrait, graphic or any other artwork produced by another person is a violation of the rules and will no be considered this includes stock images and digital backgrounds.
Entrants agree that any photograph entered may be used by The Societies and or Professional Imagemaker in any of the publications, printed materials, or electronic media. Also the image may be used for promotional use by The Societies, unless otherwise agreed.
We reserve the right to: change or modify the rules without notice.
Testimonials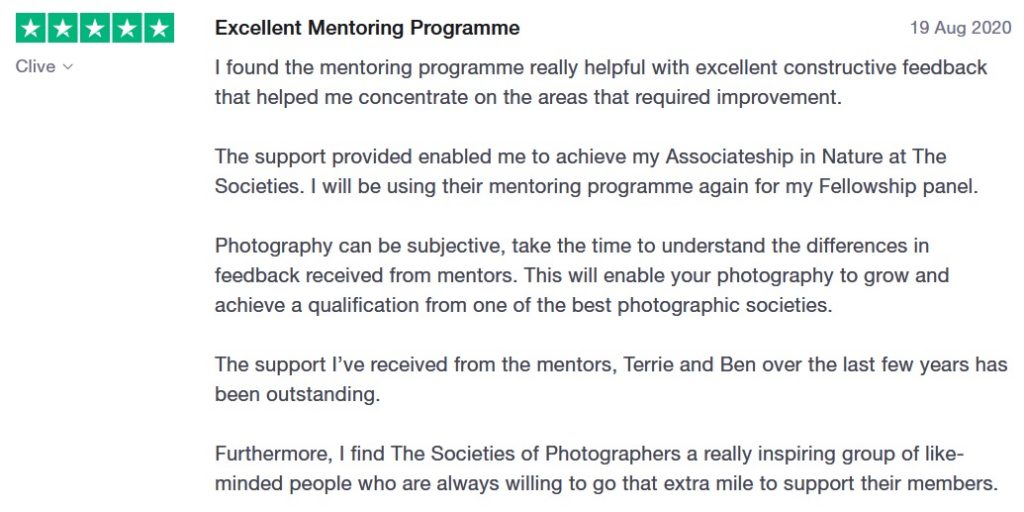 "Just want to give a shout out to the team behind the mentor me initiative. I recently joined SWPP and sent 20 images for mentor review. The feedback was very insightful and the comments really well thought out and well structured, very helpful. Thanks again!!" – Jason
"Can I please say a huge thank you to the mentoring team. I presented my first ever 20 images for mentoring and am delighted with my feedback. My feedback was very clear and has given me a direction in which to go. This is a brilliant service and if you haven't used it yet I would definitely encourage you to. Thank you mentors" – Maggie
"Received a very detailed and incredibly helpful amount of feedback about how to improve and which of my images were already up to standard. I just want to say thank you to the fantastic team that offer this service and help fellow photographers improve!" – Rob
"I just received my mentoring report, and wish to say a HUGE thanks to the mentor who judged it, the amount of detail per image was incredibly detailed and helpful. Because of the detail my weaknesses and strengths became apparent and I can take that forward. Many thanks again for the time and input
" – Peter
All testimonials are taken from the Members Only Facebook Group.
Not a member?
Start your free trial membership now