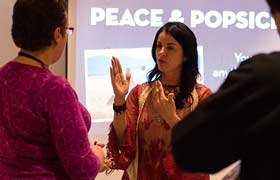 Free photographic mentoring for members*.
The Societies of Photographers offers members a comprehensive mentoring programme through the well-established 'Mentor Me' service.
The assessments help photographers by giving them an insightful appraisal of their work and assist in building their core photographic skills, which will benefit their business and enable higher levels of qualifications achievable.
Increasing the number of qualified members is a vital factor in attaining a merchantable standard of imaging across the industry. The primary level of 'Licentiate' is benchmarked to inspire customer confidence in the ability and quality of work expected of a professional photographer. Without the
benefit of such benchmarking we are unable to promote with confidence or with validity and integrity, an average standard of professional imaging.
We have a team dedicated to innovative programmes and research in order to provide you with the right tools to develop your business. One of these is our invaluable 'Mentor Me' programme through which you receive a one-to-one appraisal of your work and advice for progression. All reports include recommendations for participation in training programmes pertinent to your professional development and it doesn't just stop at reaching your Licentiateship. In fact, that is only the beginning on a journey of lifelong learning.
Mentoring comprises of a written assessment of 20 images chosen and supplied by the member in one subject matter.
Images can be sent by our upload facility and generally members can expect to receive their report within 1 month. The images must be supplied 2,000 pixels on the longest side, numbered 01-20 and saved as jpgs.
Mentoring is included in the following member's packages: 
Professional membership – Unlimited
Enthusiast membership – Max 2 per year
Corporate/Second member – Unlimited
Retired  – Max 2 per year
Testimonials
"Just want to give a shout out to the team behind the mentor me initiative. I recently joined SWPP and sent 20 images for mentor review.  The feedback was very insightful and the comments really well thought out and well structured, very helpful. Thanks again!!" – Jason
"Can I please say a huge thank you to the mentoring team. I presented my first ever 20 images for mentoring and am delighted with my feedback. My feedback was very clear and has given me a direction in which to go. This is a brilliant service and if you haven't used it yet I would definitely encourage you to. Thank you mentors" – Maggie
"Received a very detailed and incredibly helpful amount of feedback about how to improve and which of my images were already up to standard. I just want to say thank you to the fantastic team that offer this service and help fellow photographers improve!" – Rob
"I just received my mentoring report, and wish to say a HUGE thanks to the mentor who judged it, the amount of detail per image was incredibly detailed and helpful. Because of the detail my weaknesses and strengths became apparent and I can take that forward. Many thanks again for the time and input
" – Peter
All testimonials are taken from the Members Only Facebook Group.
Not a member?
Start your free trial membership now