Panasonic Launches New L-Mount Interchangeable Lens for its LUMIX S Series Full-Frame Mirrorless Cameras
LUMIX S PRO 24-70mm F2.8 (S-E2470)
Panasonic is proud to introduce a new interchangeable standard zoom lens, the LUMIX S PRO 24-70mm F2.8 (S-E2470), based on the L-Mount system for the LUMIX S Series full-frame mirrorless cameras. Specially focusing on professional use, the LUMIX S Series pursues uncompromising photographic expression with its high-quality cameras and lenses.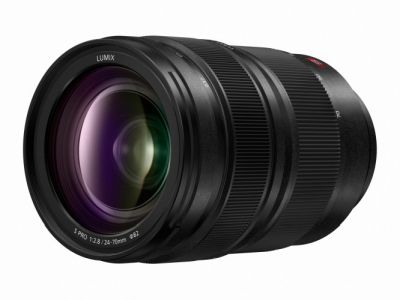 The LUMIX S PRO 24-70mm F2.8 is a large-aperture standard zoom lens that boasts high image quality across the entire zoom range. The optical performance of this LUMIX S PRO lens is remarkably high to ensure it satisfies the stringent certification standards of Leica Camera AG.
Offering a versatile set of focal lengths that are ideal for a wide range of subjects, including landscape, documentary and portraits, the lens features stunningly high resolution and high contrast from its widest to its longest focal lengths. The constant F2.8 high-speed maximum aperture provides smooth defocus transition from the focus peak to out-of-focus areas to achieve beautiful bokeh as well as a three-dimensional effect that makes the subject stand out from the background.
Comprising 18 elements in 16 groups, the LUMIX S PRO 24-70mm F2.8 uses 3 aspherical elements and 4 ED (Extra-low Dispersion) lenses to efficiently suppress both axial and transverse chromatic aberration so images are rendered sharp and coloured fringing is avoided. Astigmatism is also corrected by these aspherical lenses, to produce clear detail right across the image area. Furthermore, the UHR (Ultra-High Refractive Index) lens achieves uniform image quality right to the edges of the image while enabling for a more compact lens unit.
A double focus system combining a linear motor and a stepping motor achieves sensor drive at a maximum speed of 480 fps. This provides fast, high-precision AF to ensure that important photo opportunities are never missed. The adoption of a focus clutch mechanism enables instant AF/MF switching as well as accurate manual focusing. The LUMIX S PRO 24-70mm F2.8 also excels when used for shooting video as it features a design mechanism to suppress focus breathing – a critical issue that affects most interchangeable zoom lenses designed for still photography.
The rugged dust/splash-resistant* design will withstand use in harsh conditions down to -10°C, so the lens can be used in a wide range of environments. The lens has an 82mm filter thread and uses an 11-bladed circular aperture diaphragm for smooth reproduction of out-of-focus areas and highlights.
Panasonic is committed to designing and developing the LUMIX S Series lens line up, with more than 45 L-Mount interchangeable lenses, including over ten LUMIX S/S PRO lenses, available from Panasonic, Leica and SIGMA by the end of 2020. A variety of mount adapters/converters further expand the opportunities to use an even wider range of modern and legacy lenses. The L-Mount thereby opens up an almost limitless spectrum of new creative possibilities.
The LUMIX S PRO 24-70mm lens will be available to purchase for RRP £2,249.99 (€2499.99 Ireland) from 26th September 2019.
*Dust and Splash Resistant does not guarantee that damage will not occur if this lens is subjected to direct contact with dust and water.
•Leica is a registered trademark of Leica Microsystems IR GmbH.
•Design and specifications are subject to change without notice.