Panasonic Upgrades LEICA DG 25mm Fixed Focal Length Lens for the Micro Four Thirds System
LEICA DG SUMMILUX 25mm / F1.4 II ASPH. (H-XA025) with High-Speed AF Compatibility in a Splash/Dust-Resistant and Rugged Design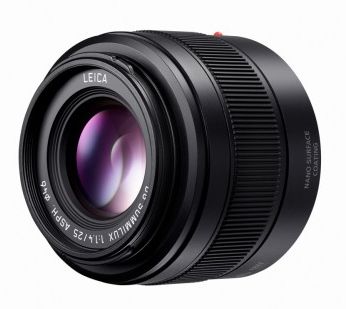 Panasonic has upgraded its LEICA DG 25mm fixed focal length lens for the Micro Four Thirds system standard, adding a new splash/dust-resistant* construction and compatibility with max. 240 fps sensor drive for high-speed auto focusing. The wide maximum aperture of F1.4 makes the new LEICA DG SUMMILUX 25mm / F1.4 II ASPH. (H-XA025) a high-speed standard lens for the Micro Four Thirds system with the same angle of view as a 50mm lens for full frame systems.
Offering a focal length that is truly flexible and suited to a wide range of subject matter, the LEICA DG SUMMILUX 25mm / F1.4 II ASPH. features stunningly high resolution and contrast from the centre to the corners of the image, despite its large aperture. It also provides smooth focus transition and out-of-focus highlights, producing beautiful bokeh that makes pictures even more attractive.
The lens construction comprises 9 elements in 7 groups, including 2 aspherical elements and 1 UHR (Ultra High Refractive) index lens. The UHR index lens and the glass moulded aspherical lenses ensure high quality from the centre to the corners of the frame while maintaining a compact and lightweight design. Panasonic Nano Surface Coating is also applied to minimise ghosting and flare to provide high-contrast and clear images even when shooting towards a light source. Surpassing LEICA's stringent certification standards, exceptionally high image quality is guaranteed from this lens.
Incorporating an inner-focus drive system and stepping motor the new LEICA DG SUMMILUX 25mm / F1.4 II ASPH. is capable of smooth, silent operation to complement the latest LUMIX G camera's high-speed, high-precision contrast AF systems for both photo and video recording. It is also compatible with VENUS Engine processors that drive LUMIX camera systems at max. 240 fps, so it can take maximum advantage of cameras with high-speed AF.
Realising the potential of a large-aperture lens in a compact, lightweight body, the new rugged-design LEICA DG SUMMILUX 25mm / F1.4 II ASPH. achieves both high picture quality and a portable size, fitting in perfectly with the latest LUMIX G Mirrorless Cameras.
The LEICA DG 25mm lens will be available for RRP £579.99 (Ireland €649.99) from 24th October 2019.
*Dust and Splash Resistant does not guarantee that damage will not occur if this lens is subjected to direct contact with dust and water.
*Design and specifications are subject to change without notice.