Introducing the future of EIZO ColorEdge with new 27″ HDR monitors for editing and post-production
Your colour managed workflow will never be the same again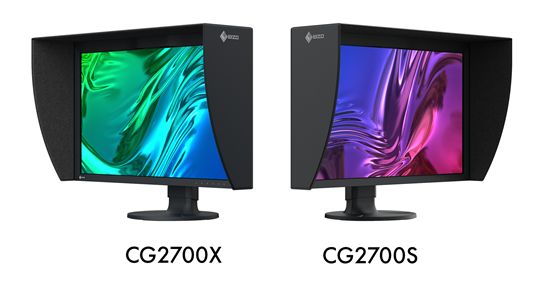 The next generation of EIZO ColorEdge, led by the flagship CG2700X monitor, combines the highest standard of colour reproduction and accuracy with a brand-new cabinet design and built-in connectivity through a USB Type-C connection.
With a 4K UHD (3840 x 2160) resolution, 500 cd/m2 high brightness, and HDR gamma support, the CG2700X reproduces content in remarkable detail, ensuring high-resolution, colour-critical content is displayed crisply. The 27-inch screen also provides ample space for displaying editing windows, toolbars, palettes, or other applications.
Thanks to the USB-C connection, you can power your entire workstation through a single cable: transmitting video and audio signals, ethernet, connected USB devices, and supply up to 94W of power to a compatible device such as a laptop.
The CG2700S shares the same benefits but with a 2K WQHD (2560 x 1440) resolution and 400 cd/m2 high brightness.
The new CG2700S/X screens streamline the user's experience so professionals in video editing, 3DCG creation, game development, photography, and more are free to focus on creating.
Self-calibration
The monitors come equipped with EIZO's award-winning built-in sensor technology and ColorNavigator 7 colour management software. This allows the user to calibrate their monitor automatically at designated times, eliminating the need for a third-party calibration device and ensuring the screens stay accurate over time. Thanks to ColorNavigator Network, all ColorEdge monitors within the workflow can be managed centrally so users can be confident they're seeing the same image and colour as colleagues.
HDR Content
The CG2700S/X supports both HLG (hybrid log-gamma) and PQ (perceptual quantization) curves for displaying and editing HDR (high dynamic range) content. The optimised gamma curves render images to appear truer to how the human eye perceives the real world compared to SDR (standard dynamic range). This ensures professional creators can reliably display HDR content for editing and colour grading.
They're also the first models proceeding EIZO's ColorEdge PROMINENCE HDR reference monitor to include Sync Signal. This function automatically adjusts the monitor's settings, such as input range and input colour format, according to the video signal to ensure colour settings stay consistent throughout production.
Connectivity
USB Type-C connectivity allows users to transmit video and audio signals, connected USB devices, and supply up to 94W of power to compatible devices such as a tablet, MacBook Pro, or other high-end notebook PC. This convenient multi-purpose connectivity makes it faster and easier for users moving between creative workstations or when working in a remote or home studio. Furthermore, the monitor has a LAN port directly built-in to provide a stable network connection, allowing access to the network through the monitor for sharing creative assets and files or carrying out post-production work remotely.
Additional Features
• Wide colour gamut faithfully reproduces 98% of the DCI-P3 standard used in digital cinema, as well as supports BT.2020 for broadcasting. It also covers 99% of the Adobe RGB colour space for photography and other creative fields.
• Smooth transitions and gradients thanks to 10-bit simultaneous display from a 16-bit LUT.
• Equipped with EIZO's patented digital uniformity equalizer (DUE) technology which corrects deviations in every tone across the screen to ensure stable display.
• Ergonomic stand with height (155 mm), tilt (35° up, 5° down), swivel (344°), and pivot (90°) adjustment.