Fujifilm launches FUJINON Lens XF18-120mmF4 LM PZ WR
-New interchangeable lens for the X Series of mirrorless digital cameras
-Hybrid lens that caters to both stills and videos for superior visual expressions
-Highly accurate electrically-controlled zooming and focusing with highly versatile 6.7x zoom ratio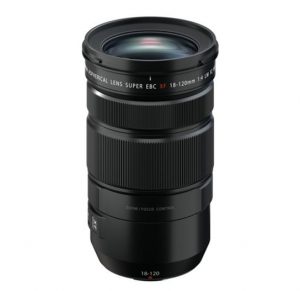 FUJIFILM Corporation (President and CEO, Representative Director: Teiichi Goto) announces the launch of the "FUJINON Lens XF18-120mmF4 LM PZ WR" (XF18-120mmF4 LM PZ WR) in September 2022. The new lens joins the extensive lineup of interchangeable XF lenses designed for the X Series of mirrorless digital cameras, which are renowned for their compact and lightweight design and outstanding image quality delivered with Fujifilm's proprietary color reproduction technology.
The XF18-120mmF4 LM PZ WR is a 6.7x power zoom lens in a compact design, covering a wide variety of photographic situations from landscape to portraiture. It is capable of highly-accurate electrically-controlled zooming and focusing, and incorporates development expertise fostered in broadcast lenses and cine lenses to offer fully-fledged video recording capability with easy operations.
The XF18-120mmF4 LM PZ WR is a hybrid lens catering to both stills and videos to produce high-quality images.
The XF18-120mmF4 LM PZ WR covers focal lengths from the wide angle 18mm to the telephoto 120mm (equivalent to 27mm – 183mm in the 35mm film format). It offers the fast F4.0 maximum aperture across the entire zoom range, and maximum magnification ratio of x0.2 to capture close-up shots. The lens accommodates a wide variety of shooting scenes including wide-angle landscape photography, portraiture taken wide open at the telephoto end to produce a beautifully-blurred background, and close-up shots of flowers and other plants.
The XF18-120mmF4 LM PZ WR also boasts advanced video characteristics, suppressing change in angle of view during focusing and optical axis shift during zooming. Users can zoom and focus with confidence while filming video, thus facilitating premium-quality video production. In addition to the regular zoom and focus rings, the lens is equipped with a variable zoom / focus control ring and a zoom button for constant zooming. These versatile video functions have only been made possible thanks to the expertise of the FUJINON Lens brand, which has produced numerous broadcast lenses and cine lenses.
Fujifilm will continue to enhance the appeal of the X Series with the introduction of the XF18-120mmF4 LM PZ WR, which can cover a variety of shooting scenes in both stills and videos to broaden users' shooting experiences.
Check out the Fujifilm website for full details.