Fujifilm launches FUJINON Lens XF150-600mmF5.6-8 R LM OIS WR
Introducing a super telephoto zoom lens covering 150mm – 600mm in focal length
Lightweight design, powerful image stabilization and fast and accurate AF to produce high quality images in hand-held shooting
FUJIFILM Corporation (President and CEO, Representative Director: Teiichi Goto) announces the launch of the "FUJINON Lens XF150-600mmF5.6-8 R LM OIS WR" (XF150-600mmF5.6-8 R LM OIS WR) in July 2022. The new lens joins the extensive lineup of interchangeable XF lenses designed for the X Series of mirrorless digital cameras, which are renowned for their compact and lightweight design and outstanding image quality delivered with Fujifilm's proprietary color reproduction technology.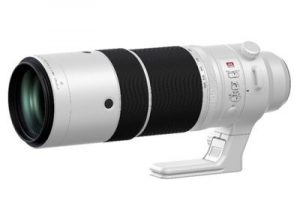 The XF150-600mmF5.6-8 R LM OIS WR is a zoom lens that covers focal lengths ranging from the telephoto 150mm to the super-telephoto 600mm (equivalent to 229mm – 914mm in the 35mm film format). It weighs just 1605g*1 and sports a powerful image stabilization mechanism as well as fast and highly accurate AF system to deliver excellent mobility. Users can shoot distant wildlife, wild birds or athletes hand-held and produce high-quality results.
The XF150-600mmF5.6-8 R LM OIS WR covers up to the super-telephoto focal length of 600mm (equivalent to 914mm in the 35mm film format), the longest in the history of XF lenses*2. It can also be coupled with the "XF2X TC WR" teleconverter, which can extend the focal length of lenses, to reach up to 1200mm (equivalent to 1828mm in the 35mm film format), allowing liberal framing unrestricted by shooting distance to capture wildlife and wild birds, or tracking athletes across all corners of a vast stadium in sports photography.
The XF150-600mmF5.6-8 R LM OIS WR consists of 24 lens elements in 17 groups, including three ED lenses and four Super-ED lenses, effectively suppressing chromatic aberration and delivering a high level of edge-to-edge image resolving performance across the entire zoom range. Furthermore, it weighs just 1605g1 despite being a zoom lens covering a broad range of shooting distances. The use of the Inner Zoom system means the lens barrel does not extend, thus minimizing shift in weight distribution balance during zooming for stable hand-held shooting. The lens also features a 5.0-stop3 image stabilization mechanism and an AF system that attains focus in as quickly as 0.15 seconds*4, ensuring that users do not miss any decisive photo opportunities.
Adding the XF150-600mmF5.6-8 R LM OIS WR to an extensive lineup of lenses, Fujifilm will continue to offer photographic pleasure with the X Series, covering a wide range of photographic categories.
*1 Weight excluding the lens cap, lens hood and tripod seat.
*2 As of May 31, 2022.
*3 Compliant with CIPA in pitch / yaw directions.
*4 AF speed on the wide angle end, using an internal measurement method compliant with the CIPA Guidelines, when mounted on the mirrorless digital camera "FUJIFILM X-T4" with Phase Detection AF activated and the High Performance Mode turned ON.
Check out the Fujifilm website for full details.