Gitzo builds on market leadership With new Ball Head Series 4
"With a 30kg payload, incredible fluidity and precision of movement, the new Gitzo Ball Head is a real game changer for the wildlife photographer using heavy telephoto lenses." Daisy Gilardini, Gitzo Ambassador
Patented zero-drift locking system supports up to 30kg (66lb) payload, ideal for professional longer lenses and heavy cameras
Maximum framing reactivity and smooth positioning thanks to a specially coated hollow-sphere ball and precision friction system
Dedicated pan axis thermo-stable fluid cartridge for ultimate movement control during subject tracking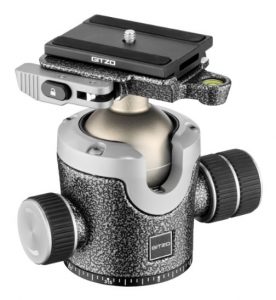 Gitzo, the pioneer of the most advanced technologies in professional camera equipment, presents the new Ball Head Series 4 – further assuring its benchmark reputation for the excellence of quality and performance in photographic heads as well as tripods. The Series 4 has been redesigned and updated in terms of both aesthetics and functions.
Among the head's premium features, the high payload rating will appeal in particular to professionals working in wildlife and bird photography fields. The dedicated thermo-stable fluid pan cartridge ensures that the most frequently used by axis reliably delivers seamless fluidity when capturing subjects moving horizontally, for high-quality smooth videos and flawless images. The stability offered by the Ball Head Series 4 is also invaluable when using longer focal lengths – a few degrees of displacement caused by the shiver of cold hands will equate to meters downrange when shooting through a 600mm lens.
The Gitzo Ball Head Series 4 is a heavy-duty tripod head ideal for large telephoto lenses, engineered to ensure the ultimate in smoothness and precision of movement. Though weighing-in at less than 1kg, it securely holds an impressive 30kg load – effortlessly handling a CSC or DSLR equipped with a 400-600mm lens. The unit perfectly complements Gitzo's Series 4 and 5 Systematic tripods and is available in both lever and screw plate lock configurations.
The Ball Head Series 4 has a larger super-smooth coated hollow-sphere ball ensuring confident and comfortable use with heavier equipment, even in extreme conditions and temperatures from -30° to 70°C. It is rich in features – a friction control wheel located within the ball locking knob for precise adjustment and a bubble level to help keep a true horizon. A 360° independent panning lock provides uncompromisingly smooth movement in a fluid cartridge and a short-rotation fast lock assists in getting the perfect shot at a moment's notice. The whole ensemble is precision manufactured using the highest-quality materials – including high-tolerance steel and aluminum components.
The Gitzo Ball Head Series 4 offers unrivaled load capacity, ultra-smooth movement and rapid friction control – all in a sub-1kg unit designed and precision-made in Italy. Supplied with the Gitzo's D profile plates, the Ball Head Series 4 is also compatible with the Arca-Swiss style plates from other brands.
The Gitzo Ball Head Series 4 is available for pre order now at £459.95.
www.gitzo.com/uk-en/gitzo-center-ball-head-series-4-lever-gh4383lr/