Fujifilm launches FUJINON Lens XF18mmF1.4 R LM WR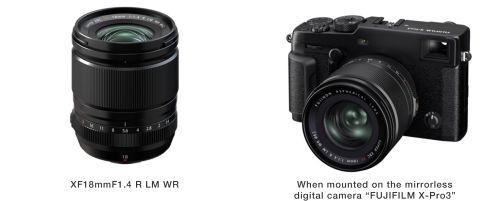 FUJIFILM Corporation (President: Kenji Sukeno) is pleased to announce the launch of the "FUJINON Lens XF18mmF1.4 R LM WR" (XF18mmF1.4 R LM WR) in late May, 2021. It will be a new addition to the lineup of interchangeable XF lenses designed for X Series of mirrorless digital cameras, known for their compact and lightweight design and outstanding image quality based on Fujifilm's proprietary color reproduction technology.
The XF18mmF1.4 R LM WR is a large-diameter prime lens with the wide-angle focal length of 18mm (equivalent to 27mm in the 35mm film format). The lens offers one of the highest resolution among XF lenses and the maximum aperture of F1.4. It weighs only 370g thanks to its compact design for excellent portability. Users can take premium-quality pictures in a variety of shooting situations such as landscape and snapshots, taking advantage of the natural sense of perspective the focal length brings.
The XF18mmF1.4 R LM WR is a prime lens with advanced resolution, consisting of 15 lens elements, including three aspherical lenses and one ED lens, in nine groups. The use of large-diameter lens elements has enabled the maximum aperture of F1.4, making it possible to shoot high-quality pictures with minimal camera shake and digital noise even in low light conditions such as nightscape. The lens weighs 370g and measures 75.6mm for excellent portability with the compact design.
With its wide-angle focal length of 18mm (equivalent to 27mm in the 35mm film format), the XF18mmF1.4 R LM WR can not only capture a landscape in a natural sense of perspective but also snapshots that close in on a main subject while keeping the vast background in the frame. The lens can capture even the finest details of a small subject in the background, as well as the atmosphere of the scene. The ability to shoot close-ups with the minimum working distance of just 11cm from the front lens element facilitates tabletop photography, close-up of foods set up on a table. These options make this lens truly versatile, accommodating a wide range of scenes.
Another feature is the Inner Focus system, which uses a linear motor to drive the focus lens group, to achieve quiet and highly accurate AF in a speed as fast as 0.04 seconds*1, ensuring that users do not miss a decisive photo opportunity.
Fujifilm will continue to add to the "large-diameter prime" series of lenses with astonishing description, including the popular large-diameter mid telephoto prime lens "FUJINON Lens XF50mmF1.0 R WR" and the latest XF18mmF1.4 R LM WR, to further broaden the enjoyment of photography using mirrorless digital cameras.
*1 Using an internal measurement method compliant with the CIPA Guidelines, when mounted on the mirrorless digital camera "FUJIFILM X-T4" with Phase Detection AF activated and the High Performance Mode turned ON.
See the fujifilm website for full details