Samyang Develops Feedback Channel, Virtual Content, Products to Meet Customers' Needs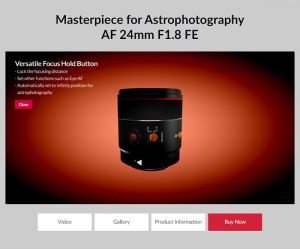 Korean optical manufacturer Samyang Optics has today opened a new 'Purchase Feedback' page on its website at:
www.samyanglens.com/feedback

This new channel will gather consumer feedback which will be monitored and considered in new product development. Samyang also recently introduced '3D VR' digital content to enhance consumers' experience and released a teaser for another upcoming new lens, scheduled to be announced on April 23rd. The teaser suggests a compact APS-C lens for astrophotography with a new design for enhanced usability.

After launching its first autofocus lens in 2016, Samyang has consistently communicated with the global market, to find consumers' needs and provide solutions with new products and services in good time.
New Purchase Feedback Channel for Product Development
As a main channel for gathering consumer feedback, Samyang has launched a 'Global Product Feedback' channel on its website: www.samyanglens.com/feedback

It includes a questionnaire on product and purchase experience and collects feedback which will be reflected in future product development. Yongwoo Kwon, Marketing Director of Samyang highlights that "The 'Focus Hold' button on the latest AF 24mm F1.8 FE is a good example to show how a feature is developed from customer feedback. The Channel will be a valuable source for Samyang to directly communicate with users". To celebrate its opening, Samyang will hold many online events during April and May. You can find more details on the global website: www.samyanglens.com
Enhanced Digital Experience with Interactive 3D VR
In addition, Samyang is introducing interactive 3D Virtual Reality content for the latest AF 24mm F1.8 FE on its official website: www.samyanglens.com

It allows users to have a digital experience of the product and understand new features such as the 'Focus Hold' button and 'Custom Switch' with a few clicks. Mr. Kwon continued: "This 3D VR is a great tool to assist customers virtually in the pandemic era, where offline exhibitions and tradeshows are not available. It was also important that the content is interactive and playable, so consumers can interact with it".
Wide Angle Lenses for Full Frame and APS-C Camera Users
This April, Samyang will introduce two new lenses, both ideal for astrophotography, but one each for full-frame and APS-C sensor sizes. Samyang has launched many lenses geared toward full-frame cameras, due to the industry's "Full Frame First, then APS-C" motto. However, Sony A6000 series users have constantly requested new lenses specifically designed for their more compact cameras. "It was a tough choice to make", said the Director; "since the majority of users are changing to full frame series. But it was important for Samyang to listen to customers and provide what they really want". Samyang decided to introduce wide angle lenses (for which they are masterful at), for both sensor sizes and with specific features. The first lens was already announced on April 9th: The AF 24mm F1.8 FE and the second lens, for APS-C, will be launched on April 23rd.