Global optics and photo/video accessory manufacturer, STC, has revealed a brand-new professional grip solution, also known as the ProGrip, for the recently announced Fujifilm X100V mirrorless camera.

As STC continues to produce ground-breaking products for photographers and videographers across the globe, the latest product to emerge has been designed specifically for the loyal league of shooters working with the Nikon Z Series of mirrorless cameras. The new grip, which is compatible with Nikon Z 6 and Z 7 cameras, follows quickly from the recent revelation of other FoGrips, including the STC Fogrip for Sony and Olympus' latest models.
The latest grip in the growing range of in the range of ingenious grips from STC, the new premium ProGrip for Fujifilm X100V gives greater stability and an immediate benefit with weight distribution and comfort with longer periods of handheld shooting for amateur, serious enthusiast and professional photographers, videographers and content creators.
As STC continue to produce innovative accessories for photographers and videographers, the ProGrip for X100V emerges specifically for those shooting with the excellent new Fujifilm camera model, which offers users the qualities of its Fujifilm X-Series counterparts but in a much smaller package. The new professional grip follows quickly from the recent announcements of STC FoGrips (folding grips) for Nikon, Sony and Olympus' latest camera models.
Built for Performance – Built to Last

The new ProGrip for Fujifilm X100V allows the user to comfortably shoot with just a single hand and will serve as in indispensable partner for those shooting for hours on end in professional and semi-professional situations. The grip will be a welcome partner for travel, wedding, and wildlife photographers, all of whom spend long periods with their camera in hand.

Each unit has been built from ergonomically designed aerospace-grade CNC aluminium alloy, which is extremely tough, yet light, weighing just 77g. The ProGrip for the X100V is covered with coloured leather, which is available in 6 different colours and improves comfort, durability and style. The invisible strap hole offers ultimate support and flexibility and users can still access the battery door without having to remove the ProGrip from the camera body. Furthermore, ultimate compatibility is assured with both quick-release plates and vertical L-Brackets, which can be purchased separately in Matt Black, Orange and Blue.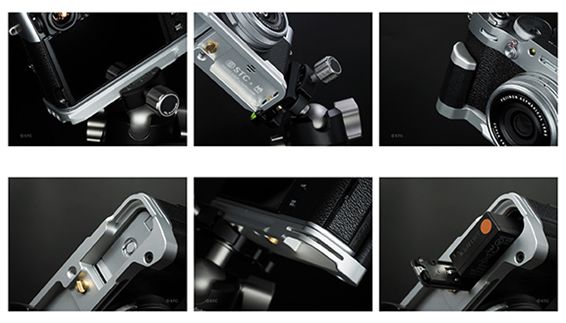 William Wu, CEO and Lead Design Engineer, STC, said: "The ProGrip solution for the X100V illustrates STC's commitment to the growing range of camera accessories from the brandr and has been developed specifically for photographers and videographers shooting with the popular Fujifilm mirrorless camera. We are confident that this new grip will provide a useful and practical solution for those shooting for long periods, making the whole experience more comfortable for the user. We see this model as a perfect example of a small-yet-powerful camera whose users will benefit from additional stabilisation when using the camera hand-held. We are very excited to see how this new and innovative product will be received by the loyal community of Fujifilm photographers and filmmakers."