Samyang Launches Online Lens Simulator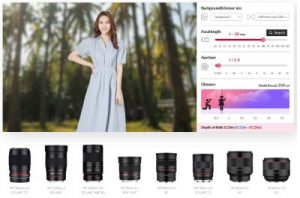 Global optics brand Samyang Optics has recently updated its international web address to: www.samyanglens.com and also carried out some major updates to the new-look site.

One major new addition is the Samyang Lens Simulator, which is a user-friendly, visual program that provides an online virtual experience. With the global effects of Covid-19 over the past few months, consumers have been looking for a way to experience the effect of different lenses, while staying safe in the comfort of their home. Now, they can play with the Simulator and learn how features of each lens affects the image and discover which Samyang lens is the best for their own requirements.

The user is able to change multiple parameters, such as: Lens Model, Aperture, Distance, Background and Sensor Size. They can see real-time changes as they adjust any of these settings and get a close representation of how each lens would work on their camera body.
Samyang Lens Simulator URL: https://www.samyanglens.com/en/product/simulator/lens.php
Tutorial video by John Sison available at: https://youtu.be/ALYrL0UZM-c
Detailed information about all Samyang products can be found on the official UK & Ireland distributors' website: www.intro2020.co.uk