Samyang Boosts 'Tiny Series' Lens Line-up with Introduction of AF 35mm F1.8 FE for Sony E full-frame Mirrorless Cameras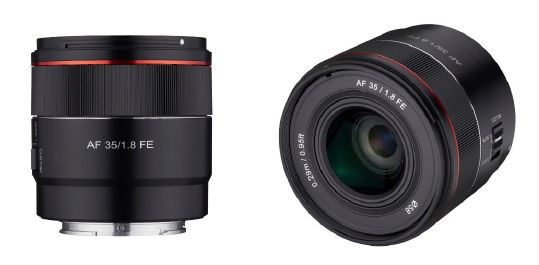 Global optics brand Samyang Optics today announced the latest addition to its 'Tiny Series' lens range, with the introduction of the new AF 35mm F1.8 FE – a fast-aperture, wide-angle, prime lens, optimised for use with full-frame Sony E-mount cameras. The compact size and light weight of this new prime provides great mobility and convenience for shooting a wide range of subjects, from everyday reportage (indoor and outdoor), to food photography, cityscapes, landscapes and more. The AF 35mm F1.8 FE provides outstanding corner-to-corner image quality, even wide-open at F1.8 and its quiet autofocus and tenacious tracking performance make it a great choice for both still and video shooting. Its small size also makes it well-suited for use with APS-C (crop-sensor) camera bodies, where it offers a 52.5mm equivalent focal length that is perfect for everyday photography.
Elevate your everyday photography with this masterful, well-designed lens
The best lens for street photographers: One of the first rules of street photography is to work discreetly and to do that, photographers do not want to be walking around with a large zoom lens dangling from their neck. The new Samyang AF 35mm F1.8 FE features a focal length that has become widely regarded as the best for street photography. This classic focal length on a full-frame camera provides a comfortably-wide viewing angle that allows creative photographers to get what they want in the frame, as well as delivering a natural perspective of the scene.
Product Features and Highlights
High resolution, large-aperture, full-frame performance, ultra-compact and lightweight
Large F1.8 maximum aperture, weighing in at just 210g (without lens cap & hood) and measuring 65mm (diameter) by 63.5mm (length); this lens sets a new standard in portability, as part of the Samyang 'Tiny Series'.
Beautiful bokeh with 9-Circular Blades
The optical construction includes 2 aspherical elements to correct aberration and deliver high-resolution throughout the entire image frame. The 9-blade circular aperture enables beautiful bokeh and smooth out of focus backgrounds.
Custom Switch provides versatile control and handling
Equipped with Samyang's Custom Switch, shooting and operation is made more intuitive and simple. You can easily select various functions, such as Aperture Control Mode by using the switch and enjoy the shooting mode that suits your personal preference. More functions will be added through firmware updates in the future.
Fast, quiet and accurate Auto Focus with excellent tracking for videos and stills
These days, it is not only important how accurately and quickly Autofocus allows you to capture images, but also how quiet and smooth it is. Thanks to the newly researched and developed Linear STM (Stepping Motor), a larger and heavier focus lens group can be controlled more quickly, quietly and precisely, providing superb image quality in high-resolution stills and videos.
Weather Sealing protection from external influences
This new 'Tiny Series' lens, features weather-sealing protection from dust, light rain and snow, providing the ability to capture stunning images in less than perfect conditions. Also, the AF/MF switch enables you to be in full control and capture the finest details. You can enjoy the full freedom of photographic expression, with all the latest functions.
The first shipment is due to arrive in the UK at the beginning of October and the Suggested retail price will be £359.99 (including VAT).
The new AF 35mm F1.8 FE lens will have its first public showing on Samyang's stand at 'The Photography Show Virtual Festival' on 20th and 21st September.
Register now, for free at: https://www.photographyshow.com
More detailed information about the AF 35mm F1.8 FE and other Samyang products can be found on the official UK distributors' website: www.intro2020.co.uk