'Reading the News' image wins top photographic award.
Street Photography Competition – Winners Announced.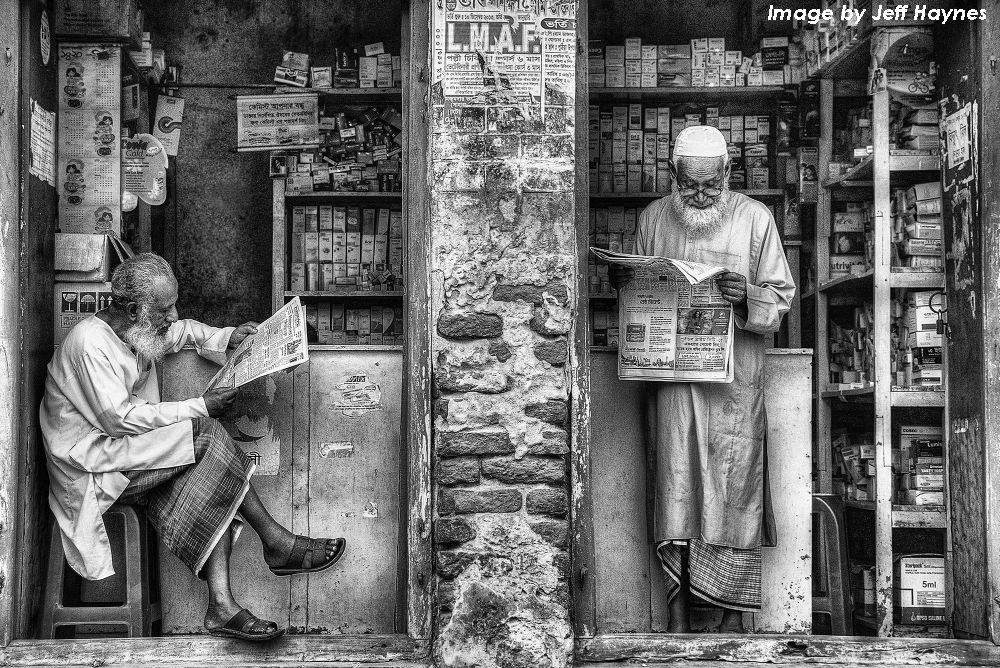 The Society of International Travel and Tourism Photographers have announced the winners of the Street Photography Competition.
In this competition we were looking for any un-posed, un-staged images which brings together the relationships between an individual and their surroundings.
Jeff Haynes from Middlesex, England was chosen as the winner.
Jeff has won a copy of Nik Collection 3 by DxO software worth £125 plus one-year Free Membership of any of our Societies.
Jeff explains the 1st place image "That's great news thanks. The image was taken in Bangladesh with a Canon 70D, 50mm focal length, ISO 4.5, ISO 400, 1/60 sec exposure."
Colin Jones The Societies Director says, "Last month's Street Photography Competition captured some fabulous and striking poignant images especially considering the current situation we are all facing. Jeff's image caught the situation perfectly as a great street shot of people reading the news in their daily life"
The 2nd place was awarded to Bernard Ng Koh Hwee from Kuala Lumpur, Malaysiab and 3rd place was awarded to Robert Gibbons from London, England.
Here are the winners –

1st place – Jeff Haynes http://www.sittp.com/street20/1st.htm
2nd place – Bernard Ng Koh Hwee http://www.sittp.com/street20/2nd.htm
3rd place – Robert Gibbons http://www.sittp.com/street20/3rd.htm

Also there were 9 highly commended images:
http://www.sittp.com/street20/hc.htm

Please check out
SINWP Bird Photographer of the Year 2020 in aid of RSPB – Closes soon!
*NEW*The Living World Photography Competition