Manfrotto Presents The Manhattan Runner-50 Photographic Roller Bag
Designed for urban photographers on the move, cabin ready
Adapts to fit different gear choices thanks to Manfrotto's Flexy Camera Shell
Easy to use, removable protective insert – 100% photography to 100% lifestyle – in one step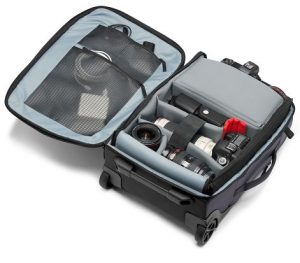 Manfrotto, world leader in the photography, imaging equipment and accessories industry, has launched the new addition to its Manhattan Camera Bag Collection: introducing the Runner-50 roller bag, designed to support the lifestyles of busy city-based advanced photographers focused on creating outstanding work.
This new versatile and feature-rich media and camera trolley case is made for advanced photographers who travel frequently with their DSLR or CSC kits. It is the ultimate travel solution for 2 to 3-day trips and is designed to meet the strictest airline cabin baggage regulations.
Like all Manhattan bags, the Runner-50 boasts a stylish, minimalist aesthetic, high-quality, durable materials, and careful attention to functionality and detail. This soft suitcase features a rigid structure on the inside that ensures the protection of its contents, and durable, water repellent fabric on the outside. A rain cover is included for extreme weather conditions.
Photography gear is stored in the removable Manfrotto insert, which safeguards photography gear no matter how chaotic things get. The core of the photography insert is cushioned by the renowned FLEXY CAMERA SHELL: this highly resistant, innovative protection system engineered by Manfrotto bends to fit different kit sizes and keeps everything snugly protected. All photographers need to do is decide their choice of gear and simply flex the dividers to fit contents perfectly.
The trolley case can be used in a number of configurations: 100% camera gear, 70% camera gear and 30% personal items, and of course 100% personal belongings. When extra storage space is needed for personal belongings, the gear insert easily comes out and can be worn as a backpack. Alternatively, it can keep gear safely stored when not in use. In other words, the awesome Runner-50 actually offers two bags in one. Moreover, two outside pockets provide easy access to the camera compartment inside.
Runner-50 also features silent wheels and an ergonomic top, side and bottom handles for easy and comfortable lifting and carrying, as well as non-slip bumpers for extra stability. A TSA lock-compatible zipper ensures further safety (lock not included).
The case offers smart solutions for all photographer essentials. Its easily accessible, padded media sleeve holds a 15" laptop and is separate from the main compartment, which is perfect for security checks. There are also handy concealed pockets on the inside, and an innovative tripod attachment on the outside.
Like the rest of the Manhattan collection, the Runner-50 boasts effortless urban style, enhanced comfort and features that makes it the perfect companion for on-the-go shoots.
The Manhattan Runner 50 is available for £255.95. For more information please see https://www.manfrotto.com/uk-en/manhattan-camera-roller-bag-for-dslr-csc-mb-mn-r-rn-50/