DxO PhotoLab 3.2 Is Expanding Its Set Of Local Adjustment Tools And Improving Its PhotoLibrary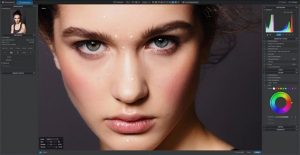 DxO PhotoLab 3, the market's leading photo-editing software in terms of image quality developed by DxO, has now become even better with its latest 3.2 update. After introducing the DxO ColorWheel, which offers users a brand-new approach to colour, DxO PhotoLab 3.2 has made local adjustment mask management even more flexible, optimized its Repair Tool, and improved PhotoLibrary keyword support. In addition, the software now supports five new cameras, including the recent Canon EOS-1D X Mark III, the Nikon D780, and the Olympus E-M1 Mark III.
Improved Mask Management
In addition to the existing display, opacity adjustment, and mask reversal features, the improved Local Adjustment Palette available through DxO PhotoLab 3.2 includes two new settings: Duplicate and Rename. With these features, users can enjoy even more flexibility when managing several local adjustment masks within a single image. Photographers can duplicate control points, graduated filters, or masks to retain the same settings as the original and adapt them to suit their needs. Users can also assign a customized name to their masks to identify them more easily. In addition, the ability to move automatic masks and masks created with the Brush Tool is now available on the Windows version as well.
New Display Mode For The Repair Tool
DxO PhotoLab 3.2 has optimized the display of its Repair Tool, a powerful paintbrush that can be used to remove any unwanted elements from an image. Users can now enjoy a more streamlined display. The areas being retouched are now highlighted by a thin outline to make them easier to see without obstructing the background.
This design lets photographers reposition the area in the source image that is used to reconstruct the portion being edited. Feathering and opacity level are still adjustable.
Improved Keyword Support
DxO has improved keyword support in the DxO PhotoLibrary to offers users a workflow that is ever more comprehensive—from the image organization stage to export. In addition to the ability to add, delete, and rename the keywords that are paired to an image, DxO PhotoLab 3.2 now lets users differentiate between keywords that are tagged to several images and has added the renaming feature to the Windows version.
Support For Five New Cameras
DxO's engineers have worked hard to include support for the latest cameras released in early 2020. DxO PhotoLab 3.2 now supports the Canon EOS-1D X Mark III, the Nikon D780, and the Olympus E-M1 Mark III. The software is also compatible with the Leica D-Lux 7 and Q2.
More than 770 optical modules have also been added to the DxO PhotoLab 3.2 database, which now includes over 60,000 different camera/lens combinations. Through the high-quality RAW conversion technology included in DxO PhotoLab 3.2 and DxO's scientific calibration process, the photos taken with these devices will be automatically corrected for any optical faults.
These cameras are also supported by DxO FilmPack 5 and DxO ViewPoint 3.
Price And Availability
The ESSENTIAL and ELITE editions of DxO PhotoLab 3.2 (PC and Mac) are now available for download through DxO's online store (http://shop.dxo.com/en) for the following launch prices until March 31, 2020:
DxO PhotoLab 3.2 ESSENTIAL Edition: £86.99 instead of £112
DxO PhotoLab 3.2 ELITE Edition: £129.99 instead of £169