Wex Photo Video to open Milton Keynes store in April
Photographic and video specialist retailer launches brand new Milton Keynes store with Instagram competition and spectacular grand opening featuring legendary photographer Homer Sykes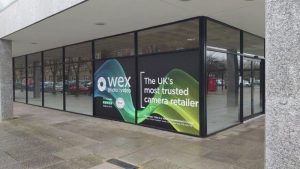 Wex Photo Video is opening a brand new store in Silbury Boulevard, Milton Keynes, on 4 April 2020. The award-winning retailer, which specialises in photographic and video equipment, has added the property to its rapidly growing portfolio of shop locations, with a 3,000-square-foot store in the heart of the town centre at Unit 14 Lloyds Court, which will be open seven days a week.
A Grand Opening event will take place from 24-25 April, where the expert Wex team and representatives from all the leading brands of cameras, lenses and accessories will be on hand to demonstrate equipment and answer customers' questions. Manufacturers will include Fujifilm, Canon, Sony, Panasonic and Olympus.
Renowned British documentary photographer Homer Sykes will make a personal appearance to officially open the store at 10.00am on Friday 24 April. Throughout the two days, visitors will be treated to a number of free gifts, savings and special offers, plus a big 'giveaway' prize draw to win an Olympus Tough TG-6 and Fujifilm Instax gear. Budding photographers can also apply to take part in a photo walk at 10.30am around the local area, led by Homer Sykes himself.
At the dedicated photo and video facility, customers will be able to try out products 'hands-on' at the hi-tech play tables, with a vast line-up of items on offer from travel compacts to mirrorless cameras, DSLRs, video cameras and drones. Accessories include everything photographers and filmmakers need on location and in the studio, including lighting, tripods, bags, flashguns, printers, storage and filters. An extensive range of high-quality, pre-owned equipment will also be available at excellent prices. In addition, Wex will offer a complimentary sensor clean voucher to all attendees.
Milton Keynes Instagram photo competition
Ahead of the opening, Wex is running a local Instagram competition with a prize of £500 in vouchers. For a chance to win the vouchers and the opportunity to have their photos displayed at the new store, participants are invited to post their favourite image taken in Milton Keynes and surrounding areas with the hashtag #wexmiltonkeynes on Instagram by 15 April 2020. Full details and T&Cs can be found here.
Wex Photo Video is a respected UK retailer that has been recognised for its outstanding customer service and value for money by Which? magazine.
Milton Keynes store address:
Wex Photo Video
Unit 14 Lloyds Court
Silbury Boulevard
Milton Keynes
MK9 3EH
More details can be found here.