Canon unveils the first of its trinity RF F2.8L lenses, expanding the pioneering RF lens line-up for the EOS R System
Canon Europe, world leader in lens manufacturing, today furthers its commitment to its RF lens range with the launch of the RF 15-35mm F2.8L IS USM and RF 24-70mm F2.8L IS USM. Endorsed by Canon Ambassador Ulla Lohmann an award-winning documentary, expedition and adventure photographer, these lenses, alongside the RF 70-200mm F2.8L IS USM which is due to launch later this year, make up Canon's F2.8L 'trinity' series for the RF mount. Meeting the requirements of professionals, the RF 24-70mm F2.8L IS USM is the perfect high-performance standard zoom choice, the RF 15-35mm F2.8L IS USM is Canon's widest lens for its EOS R System yet whilst the RF 70-200mm F2.8L IS USM is a fast aperture, super compact telephoto zoom lens. Combined, they are three kitbag essentials for all professionals and enthusiasts. Blending optical performance, fast aperture and image stabilisation, these lenses enable photographers and videographers to capture high-quality still and moving images across all genres – from landscape and architecture, to portrait and nature, or sports and media.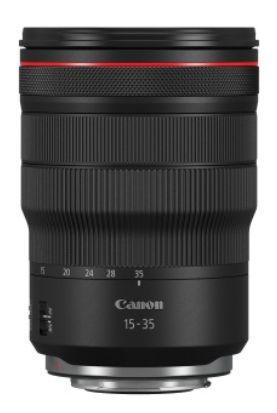 Following the development announcement of six RF lenses in February and the recently launched RF 24-240mm F4-6.3 IS USM and RF 85mm F1.2L USM, the RF 15-35mm F2.8L IS USM and RF 24-70mm F2.8L IS USM are the third and fourth RF lenses to be introduced by Canon in 2019. Launching later this year are the RF 70-200mm F2.8L IS USM and RF 85mm F1.2L USM DS – the last two of six RF lenses Canon committed to bringing to market in 2019. The full RF line up offers incredible quality and versatility for professionals and enthusiasts looking to expand their skill set and take stunning shots with the EOS R System.
Optical excellence across the RF lens range
Demonstrating Canon's longstanding commitment to optical excellence, both the RF 15-35mm F2.8 L IS USM and RF 24-70mm F2.8 L IS USM are built on the pioneering RF Mount offering new optical designs and lens potential. The RF 24-70mm F2.8 L IS USM is comprised of 3 Ultra Low dispersion and 3 moulded glass aspheric lens elements, whilst the RF 15-35mm F2.8 L IS USM has 2 Ultra low dispersion and 3 moulded glass aspheric lens elements. The composition of both lenses corrects aberration, distortion, and astigmatism enabling high-contrast images, with edge-to-edge sharpness across the entire zoom range.
Both lenses have a fixed, fast f/2.8 aperture providing professionals with low-light shooting capabilities, such as at dusk or indoors, as well as precise control over depth of field. These wide aperture lenses enable stunningly sharp images when using a higher shutter speed in low-light, giving photographers the creative freedom in varies shooting scenarios.
Ideal for landscape and portrait photography, the RF 24-70mm F2.8L IS USM is a versatile multi-purpose, standard zoom for professional photographers who need a lens for shooting on-the-go. The zoom has the beautiful blurring characteristic of a large aperture lens, making it ideal for use as a portrait lens. At this focal range, subjects stand out against a soft background bringing a quality of intensity to images. Comparatively, the RF 15-35mm F2.8L IS USM is a high performance, ultra-wide angle zoom lens, providing the flexibility of a selection of popular wide-angle focal lengths, making it ideal for photographers capturing landscape and architecture. It is the widest Canon zoom lens ever to feature a f/2.8 aperture – allowing professionals to capture subjects in dramatic perspectives. The large f/2.8 aperture also makes this lens a strong choice for professionals who specialise in sports, press and astrophotography.
The professional's choice for smooth photography and videography
The lenses are the first wide angle L series lenses to feature Canon's 5-stop Image Stabilizer, based on Canon's innovative technology pioneered in the EF lens range. Photographers and videographers can shoot without worrying about blur caused by camera shake affecting the final image. The Dual sensing IS and Combination IS improves the IS shake detection capabilities of the lens as well as automatically detecting when used on a tripod to turn off the IS system – giving professionals the reliability to capture stunningly sharp images whatever the shooting situation.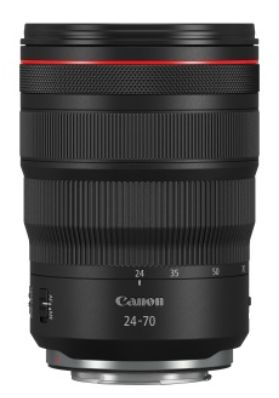 The RF 15-35mm F2.8L IS USM and the RF 24-70mm F2.8L IS USM are Canon's first fast aperture zoom lenses to include Nano USM technology. Originally introduced in the EF-S 18-135mm f/3.5-5.6 IS USM, Nano USM lenses use a motor system that delivers high speed focusing for photography, as well as continuous smooth, virtually silent focusing for video recording – making these lenses an essential tool for videographers also using the EOS R System as unnecessary focus sounds aren't recorded during shooting. The RF 24-70mm F2.8L IS USM, like the RF 24-105mm F4L IS USM, features a focus breathing suppression system which prevents the angle of view changing when focusing – producing a natural look when focusing during filming.
Professional L-series handling across the range
As with all RF lenses, both the RF 15-35mm F2.8L IS USM and RF 24-70mm F2.8L IS USM feature a control ring which can be assigned to aperture, shutter speed, ISO speed and exposure compensation, allowing full customisation alongside the full-time manual focus ring. Featuring the superior durability and operability expected of the L-series, both lenses feature dust and sealing and fluorine coating on the front and rear elements, to repel oil and water – ideal for peace of mind when shooting in harsh, challenging and demanding conditions.
On using the RF 15-35mm F2.8L IS USM and RF 24-70mm F2.8L IS USM, Ulla Lohmann, professional photographer and Canon Ambassador said: "For over 20 years I have been to all corners of the world photographing everything from indigenous tribes to erupting volcanoes. At the heart of everything I do, and what I love most about my job, is being creative. I travel great lengths to get the best shots possible, so I need equipment that is reliable and versatile – because I sometimes don't have the ability to go back to the scene or to carry a lot of kit. Because of this, the RF 15-35mm F2.8L IS USM and RF 24-70mm F2.8L IS USM are perfect travel partners and are now a staple in my kitbag. Working on the EOS R System they are fast and stable, allowing me to capture once-in-a-lifetime photographs in pin-sharp focus – even in low light situations, widening my creative shooting possibilities."
Firmware update
To complement the introduction of these lenses, Canon is releasing firmware updates for the EOS R and EOS RP which further enhances the eye detection AF performance of both mirrorless cameras. The update enables the camera to detect and focus on the eyes of subjects at much great distances compared to the previous firmware, as well as offering faster acquisition and improved accuracy and tracking. In addition to this, listening to Canon's customer feedback, firmware engineers have simplified the AF Eye Tracking indicators and improved the indicators refresh rate on both the EOS R and EOS RP making it much easier for professionals and enthusiasts to following the action and keep shooting with confidence. The update will be available for public download before the end of September.
For product information on these lenses, please visit:
Pricing and availability
The RF 15-35mm F2.8L IS USM will be available in September 2019 with the following RSPs:
RF 15-35mm F2.8L IS USM £2,329.99 / €2,749.99
The RF 24-70mm F2.8L IS USM will be available in September 2019 with the following RSPs:
RF 24-70mm F2.8L IS USM £2,329.99 / €2,749.99
RF 15-35mm F2.8L IS USM Key Features:
High quality ultra-wide focal length lens
15-35mm mm focal length provides a range of wide angles suitable for landscapes or architecture.
Fast fixed f/2.8 aperture for shooting in low light conditions
3 Aspherical and 2 UD elements ensure the highest resolution from edge to edge of the image – 5 stop image stabilizer enabling hand hold even at low shitter speeds
Nano USM motor for fast, smooth, silent operation idea for video
Control Ring – giving direct control over Tv/Av/ISO settings
Minimum focusing distance of 0.28 m with 0.22x magnification
SWC (Sub wavelength structure Coating) and ASC (Air Sphere Coating) prevents flare and ghosting from deteriorating image quality
RF 24-70mm F2.8L IS USM Key Features:
24-70mm focal range featuring the most commonly used focal lengths for landscape/portrait and travel
f/2.8 fixed aperture ideal for low light photography or controlling the depth of field
Nano USM motor for fast, smooth, silent operation idea for video
5-stops Image Stabilizer performance (CIPA tested) ideal for handheld photography and videography
3 Aspherical and 3 UD elements ensure the highest resolution from edge to edge of the image
Control Ring – giving direct control over Tv/Av/ISO settings
ASC (Air Sphere Coating) prevents flare and ghosting from deteriorating image quality