Canon strengthens the EOS line up with a new mirrorless and DSLR, delivering high-speed shooting and incredible resolution
Canon Europe today announces the launch of two high-speed, high resolution cameras – one DSLR and one mirrorless – designed to take enthusiast photographers to the next skill level. Canon has a camera to suit any user – EOS 90D is a fast and reliable DSLR, with a familiar, robust body perfect for sport and wildlife photographers. For everyday life, EOS M6 Mark II is a compact, yet powerful mirrorless delivering beautifully sharp images – for photographers on the move. Alongside the two new Canon RF lenses announced today, these high-quality, fast models build on Canon's popular EOS 80D DSLR and EOS M6 mirrorless cameras to provide a full choice for enthusiasts across the entire line-up.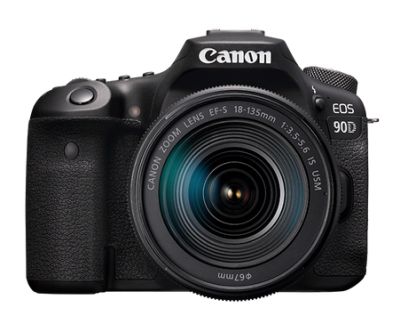 Never miss a moment
With Canon's new EOS 90D and EOS M6 Mark II cameras, photographers can capture and share life's most fleeting moments. Both models are equipped with Canon's latest generation DIGIC 8 processor which achieves fast processing speed, responsiveness and the latest in photo and movie functionality. The lightning-quick electronic shutter speed of 1/16000 second is perfect for shooting momentary subject movements, giving photographers confidence in time-sensitive shooting scenarios. With this shutter speed the aperture can be opened even wider to create a greater depth of field even in ambient lighting.
Ideal for wildlife or sports photography, the EOS 90D shoots 10fps with autofocus tracking and 11fps in Live View. The optical viewfinder reduces lag time and enables the responsiveness needed to shoot wildlife, such as birds in flight, while an intelligent function gives complete visibility of the composition and shooting settings within the display. Where subjects are both quick and unpredictable, this fast frame rate and 58 L JPEG burst rate enables photographers to shoot continuously for a greater choice in imagery. EOS 90D also has an extended battery life with up to 1300 shots (CIPA standard) which allows enthusiasts to shoot all day, unencumbered by battery limitations.
The mirrorless model, EOS M6 Mark II, is capable of a 14fps continuous frame rate and staggering 30fps RAW burst both modes with autofocus tracking, producing a quick and compact model which guarantees enthusiasts can photograph even the unexpected. To give photographers the best chance of shooting spontaneous action, this latest mirrorless camera from Canon has UHS-II card support with a burst rate of 80 L JPEG. Additionally, focus bracketing in both models makes it easy to achieve an extended depth of field by combining multiple shots in DPP.
Unbeatable image quality
Delivering high quality, detailed images free from shake and artefacts, these new cameras leverage a new 32.5-megapixel APS-C CMOS sensor, which achieves full frame levels of resolution but with the additional benefit of reach provided by the APS-C format. Coupled with the DIGIC 8 processor, both newly launched models are enabled with the latest features from the EOS range which means photographers have greater reach, can crop further and take more detailed images than ever before. The processor also unlocks lens correction tools including the Digital Lens Optimiser and Diffraction Correction, which produce excellent images straight out of the camera. With incredible raw image quality and WiFi and Bluetooth capabilities, content creators can share images direct to social channels to create stunning, live content. For crisp, true to life photos which capture natural expressions and movements, Canon has incorporated a fast and accurate eye autofocus tracking solution in both cameras. In the EOS 90D, this works in collaboration with the 220,000-pixel RGB+IR metering sensor with Flicker Detection, for faithful face detection and greater control of overall exposure. This new sensor achieves greater resolution without compromising on low light performance, thanks to a high ISO of 100 – 25,600. Improving on the EOS M6, EOS M6 Mark II focuses at EV-5 when used with lenses with f/1.4 or larger aperture – to perform even in cloudy moonlit conditions, as well of course as within buildings or shade.
Future-proof content in 4K
EOS 90D and EOS M6 Mark II are versatile cameras for stills and videos, capable of 4K resolution video utilising the full angle view of the lens attached and fast, Full HD up to 120 fps giving enthusiasts greater options for shooting, such as slow motion, cropped or super high resolution. 4K in cropped mode is also available from the EOS 90D, giving content creators the same great image quality, but with a further reach. This means operators can shoot high quality video even from a distance – a feature which provides enthusiasts the ability to capture stunning film in situations where they are unable to get up close to the action – like on safari.
Canon's renowned Dual Pixel CMOS AF system is available in both Full HD and 4K video modes and offers a wide area coverage of (88 x 100%), producing smooth, high-performance focus tracking in movies for professional-looking footage. When capturing moving subjects this ensures sharp subjects and a blurred background, while eye tracking defines the eyes of subjects, for sharper, more compelling movies.
A microphone port gives vloggers and content creators alike the ability to use an external microphone to achieve clear, undistorted sound, while the EOS 90D also has a headphone port so content creators can have greater control over sound quality in videos while filming. This produces a good feed when the action is further away and minimises the amount of editing required in post-production as enthusiasts can manage sound levels as they record. For filming on the go, the portable EOS M6 Mark II has a handy tilting screen which ensures even selfie-style content is perfectly framed.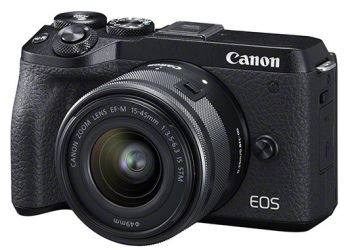 Greater control and handling
The ergonomic design of these models supports seamless and familiar handling to provide enhanced control for any style of photography. As the latest DSLR to join the EOS range, EOS 90D has a familiar, yet lighter body with a large grip for better handling and balance, particularly when using long lenses ideal for shooting sports or wildlife photography. With two multi-function dials – including one newly incorporated multi-controller, as found in the professional range on the rear of the camera – and customary EOS buttons, photography enthusiasts looking to enhance their skills can shoot instinctively and confidently with greater focus point selection and access to useful settings at their fingertips The EOS 90D is equipped with a number of customisable features which can be set to give a consistent look and feel to both photos and videos. Its 7.7cm Vari-Angle touch screen provides greater visibility of image composition whether shooting in high brightness or at a challenging angle.
The compact size of EOS M6 Mark II enables a point and shoot style of photography needed to capture spontaneous moments on the go. A dial with function, main dial, customisable autofocus/manual focus selection switch and autofocus-start button are intuitively positioned for improved responsiveness in fast-paced shooting scenarios. The detachable viewfinder is raised and centrally aligned to create space and intuitive comfort for an immersive shooting experience, while the tilt-screen offers more creative capture and unrestricted video capabilities.
Also launching today are two RF lenses – the RF 15-35mm F2.8L IS USM and RF 24-70mm F2.8L IS USM – expanding the pioneering lens line-up for the EOS R System. The EOS 90D is now available to pre-order from Canon's online store and both will be on general sale from September 2019.
For more information on the Canon EOS 90D please visit: https://www.canon.co.uk/cameras/eos-90d/ and for the Canon EOS M6 Mark II please visit: https://www.canon.co.uk/cameras/eos-m6-mark-ii/
Pricing and availability
The Canon EOS 90D will be available from 12th September 2019 with the following RSPs:
EOS 90D body only £1,209.99 / €1,449.99
The Canon EOS M6 Mark II will be available from 26th September 2019 with the following RSPs:
EOS M6 Mark II body only £869.99 / €1,029.99
EOS M6 Mark II with EF-M 15-45mm IS STM + EVF-DC2 £1,119.99 / €1,329.99