Fujifilm releases FUJINON Lens XF16-80mmF4 R OIS WR
Standard zoom lens with the world's highest 6.0-stops image stabilization and 5x zoom – Maximum aperture of F4 across the entire focal length range from wide angle to mid-telephoto to cover various shooting situations – Compact design to bring out the outstanding mobility of the X Series of mirrorless cameras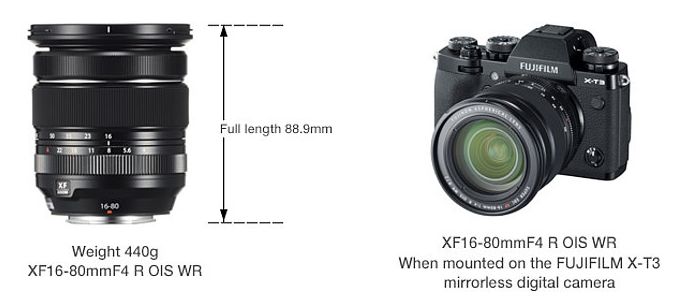 FUJIFILM Corporation (President: Kenji Sukeno) has announced the compact 5x zoom lens, "FUJINON XF16-80mmF4 R OIS WR", will join the lineup of interchangeable lenses for the X Series range of digital cameras in late September 2019. This new lens has a maximum aperture value of F4 throughout the focal length of 16-80mm (equivalent to 24-122mm in the 35mm film format). This lens has a minimum shooting distance of 35 cm over the entire zoom range, which gives a maximum shooting magnification of 0.25x. The compact and lightweight lens weighs only 440g which is approximately 40% lighter than an equivalent lens for a 35mm format system.
When attached to an X-T3 the kit weighs only 979g and 823g when combined with X-T30, making it the ultimate travel combination.
This new standard zoom lens features 6.0 stops OIS, meaning you can comfortably shoot in a wide variety of situations from a night scene or indoors without worrying about camera shake.
The XF16-80mmF4 R OIS WR is a 5x standard zoom lens that consists of 16 lens elements in 12 groups. This includes three aspherical lens elements, and one ED aspherical lens to effectively control field curvature and spherical aberrations giving advanced levels of sharpness across the frame. Its inner focus AF system1 uses a stepping motor2 to drive the focusing group of lens elements quietly and quickly. The powerful OIS has an effective correction of 6.0 stops which widens the shooting scenarios the lens can be used.
The design of the lens which features metal aspects on the exterior, showcases the premium quality and durability of the product. The zoom, aperture and focus rings have been designed for optimum handling and user comfort. The lens is also dust and weather resistant, and operates at temperatures as low as -10°C.
*1 An AF system that moves relatively small lens elements in the middle or at the rear for focusing without moving the front group.
*2 A type of motor that rotates only at a fixed angle in response to an electrical pulse signal, making it capable of precise movements
1.Product features
(1) Advanced image quality
The lens consists of 16 elements in 12 groups, including three aspherical lens elements and one ED aspherical lens. The aspherical lens elements are controlled at high precision to reduce field curvature and spherical aberration, resulting in an advanced level of image sharpness across the frame.
By using an ED aspherical lens as a OIS lens, aberration fluctuation due to image stabilization is suppressed.
In addition, This lens has a minimum focusing distance of 35 cm close-up photography over the entire zoom range. The lens has very little breathing making it suitable for movie shooting.
(2) Compact, lightweight and stylish design for superior operability
The compact 5x zoom lens weighs just 440g for excellent portability. In addition, the total length is the compact size of 88.9 mm. Approximately 40% lighter than a full size 5x zoom lens. Metal aspects of the exterior achieve a stylish look that gives additional quality and durability. The zoom, aperture and focus rings have just the right amount of torque for better handling.
(3) Powerful OIS
It has the strongest OIS performance equivalent to 6.0 CIPA-guideline standard. The camera automatically detects when it is fixed to a tripod or when panning, and adjusts accordingly.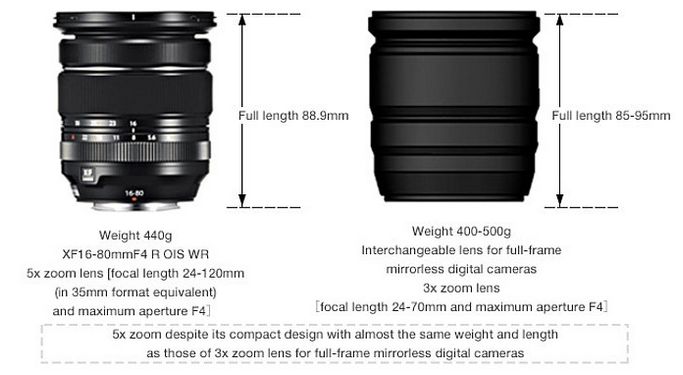 (4) Fast and silent autofocus
The lens uses the internal focus AF system that drives smaller and lighter focusing elements. It uses a stepping motor, known for its quiet operation and accuracy, to achieve fast and silent autofocus.
(5) Advanced construction
The lens barrel is sealed at 10 locations making the lens dust and weather resistant and capable of operating at temperatures as low as -10°C.
Mounting it on weather sealed mirrorless digital cameras such as X-Pro2, X-T1, X-T2, X-T3 and X-H1 allows you to shoot in light rain or a dusty environment outdoors with peace of mind.