SLIK introduce new PRO CF range of Carbon Fibre Tripods and Pro Ball Heads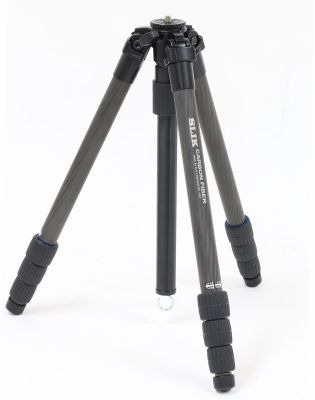 Slik have just launched a new range of carbon fibre tripods in the UK and Ireland. All 4 models in the PRO CF range use 8-layer carbonfibre legs, which are bonded and sealed in a high-pressure furnace. This allows them to be extremely strong, light-weight and rigid. There is a choice of 4 or 5-section telescopic legs, with 3 increasing leg diameters.
The PRO CF-635 tripod legs pack down to just 37cm, extend to a very useful 159cm (without head) and accommodate a 3kg load. Whereas the PRO CF-834 model, with the largest legs in the range, measures 48cm when folded and has a maximum extended height of 165cm (without head), it will easily support a 7kg load.
All 4 models have 3-step, variable-angle legs, with twist-locks and an anti-rotation-system which provides fast setup. The splittable centre-column allows near-ground shooting and incorporates a spring-loaded hook to hold a weight (such as a camera bag), providing extra stability when shooting in very windy conditions.
The two new Pro-Ball-Heads (PBH-535AS and PBH 635AS) are designed to match the PRO CF tripod legs and both incorporate the new 'Cam-Lock' Arca-Swiss compatible quick-release system that allows a camera to be attached or detached from the head, without the need to slide the plate it in or out of the groove. Each head incorporates 3 separate knobs for locking, panning and friction control. They are designed to accommodate Pro DSLR camera systems weighing up to 5kg and 6kg respectively.
Suggested retail prices range from £219 to £299 for the tripod legs and £85 to £90 for the heads. Available Now
Imported and distributed in the UK & Ireland by Intro 2020 Ltd. For full details please visit www.intro2020.co.uk