Introducing the new Befree GT XPRO
Boundless creative freedom for macro photographers on-the-go
First Manfrotto travel tripod with built-in 90° column for enhanced creative versatility
Completes the Befree Advanced range of high-performance travel tripods
Lightweight, sturdy aluminium and carbon fibre versions in an impressive compact size
First Manfrotto travel tripod with built-in 90° column for enhanced creative versatility
Completes the Befree Advanced range of high-performance travel tripods
Lightweight, sturdy aluminium and carbon fibre versions in an impressive compact size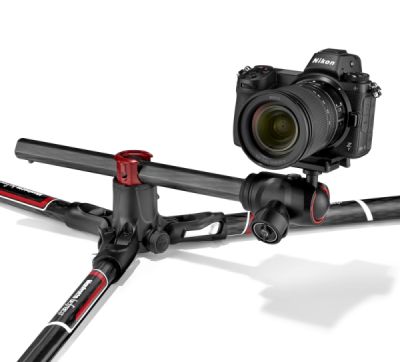 Manfrotto, world leader in the photography, imaging equipment and accessories industry, has announced the Befree GT XPRO aluminium and carbon fibre travel tripod. Designed for professional travel photographers who are always ready to set off on challenging creative adventures, this new addition to the Befree Advanced family enables photographers to unleash their creativity by combining the sturdiness and reliability of the Befree GT series with the versatility of the celebrated 90° column, in a compactness that is unique to the market.
The new Befree GT XPRO is a premium travel tripod, 100% engineered, designed and manufactured in Italy. This ground-breaking support solution, with its premium quality materials, precision machining and meticulous design completes the Manfrotto Befree Advanced range. The Befree GT XPRO comes in the same folded compact size as the successful Befree GT family – 43cm – and is the first Manfrotto travel tripod developed especially for expert on-the-go photographers who also shoot macro or low-angle shots and need the most versatile equipment.
The new Befree GT XPRO travel tripod has aluminium and carbon fibre versions and features intuitive and ergonomic design. This is the very first travel tripod to feature both Manfrotto's innovative 180° foldable legs and its iconic built-in 90° column mechanism, housed in the tripod's top casting. The 90° column is smartly stored out of the photographer's way, until it is time to defy gravity with a low-on-the-ground or a challenging overhead macro shot. Travel photographers who love macro and are always on the move can keep their new Befree GT XPRO protected in the dedicated Befree bag that it comes with.

When it's time to capture the moment, grab the Befree GT XPRO out of its bag, intuitively twist the legs to securely set it up with the M-lock system and use the side pull selectors to choose one of the three independent leg angles. This new tripod is the sturdiest in its class, providing unparalleled performance and stability to assist photographers in capturing their best shots in a solution weighing only 1.76kg for the carbon fibre, or 2kg for the aluminium version.
The Befree GT XPRO mounts the Manfrotto 496 Center Ball Head with independent panoramic and friction knobs for smooth movement and remarkable locking power to support an impressive 10kg of photography gear, including DSLRs or CSCs with zoom lenses. The included 200PL-PRO rubberized plate increases camera grip and makes it fully compatible with the Manfrotto RC2 and Arca-type head attachments.
The new Befree GT XPRO travel tripod is the natural choice for professionals with wanderlust whose creativity knows no bounds.
The aluminium Befree GT XPRO will be available at RRP £269.95, and the carbon fibre version will be available at RRP £409.95.
For more information please head to https://www.manfrotto.com/uk-en/collections/supports/befree-advanced-series/