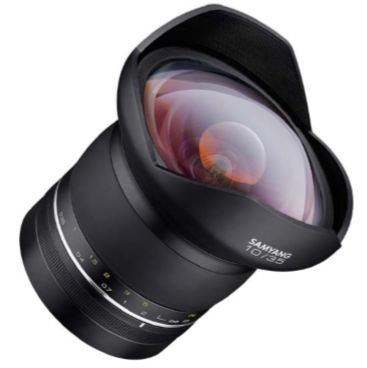 Global optics brand, Samyang Optics is pleased to unveil the WORLD'S WIDEST, NON-FISHEYE, PRIME LENS, the 'distortion free' XP 10mm F3.5 for Canon full-frame DSLR cameras (The XP 10mm F3.5 for Nikon F mount will also follow soon). The new XP 10mm F3.5 lens encapsulates the brand's universally respected optical technology, especially in the wide angle lens category. It provides the ultimate in ultra-wide-angle coverage (up to 130° angle of view), with crystal-clear, nonfisheye image quality.
A single lens captures it all, in Distortion Free quality As the demand for premium lenses for high-end cameras increases, Samyang's new XP 10mm F3.5 elevates the quality of ultra-wide images and provides a burst of creativity for users, with its high resolution of more than 50 megapixels and distortion-free images for creating outstanding landscapes and architectural shots.
This lens features a total of 18 lens elements in 11 groups. 7 special optical elements maximise the image quality from centre to edge, with high contrast and vivid colour. The use of 3 aspherical elements, 1 high-refractive element and 3 extra-low dispersion elements effectively remove any distortion and aberrations. Flare and ghosting are also controlled by Ultra-MultiCoating technology from Samyang. Now you can capture super-wide landscapes with 130° angle of view as well as architecture and indoor shots in super-high resolution and distortion-free. The XP 10mm F3.5 will be the perfect lens for a broad range of photographers and cinematographers who wish to create professional photos and videos in exceptionally high resolution. The lens oozes quality with is solid, metal body.
The absolute resolution XP 10mm F3.5 lens will be available during March 2019 with a suggested retail price of £949.99