Congratulation to Eric Browett with this winning image.

Eric tells us "The photograph is obviously of the Golden Gate Bridge. I took it on a 3 week 2500 mile motorcycle road trip with two friends, starting and returning to Los Angeles. We took in a lot including San Francisco, Yosemite NP, Death Valley and the Grand Canyon. The photograph was taken on the ferry across the bay to San Sausalito on a pretty basic Sony DSC-W70. 1/500 second, f13, but I suppose it just proves it's 'right time, right place' so often with photography."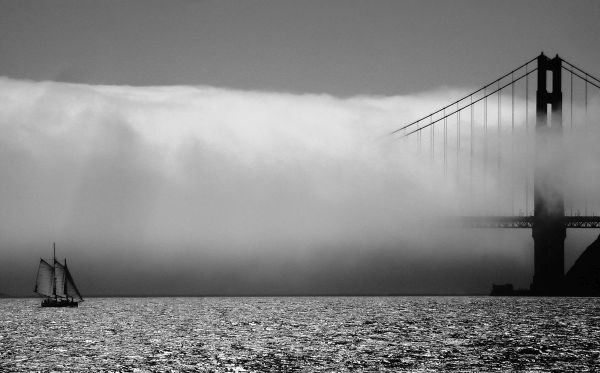 Eric has won an Olympus OM-D E-M1 Mark II Digital Camera with 12-40mm PRO Lens, one year Free Digital Membership of any of our Societies, Permajet Snapshut A3 15mm Portrait Leather – Black (valued at £57.95) – Sponsored by Permajet, 25 sheets of Permajet A3 25 FB Royal Gloss 310 (valued at £62.95) – Sponsored by Permajet, .photo lens cleaner and .photo Clip lens (valued at £15) – Sponsored by .photo domains, Monochrome Photography Competition Overall Winner Certificate and a £25 Digitalab voucher!
Monochrome Photography Competition
Entries
1st Place see HERE
2nd Place see HERE
3rd Place see HERE
Highly Commended images see HERE