Webinar: 20×16 Print Competition Q&A Session with Terrie and Colin Jones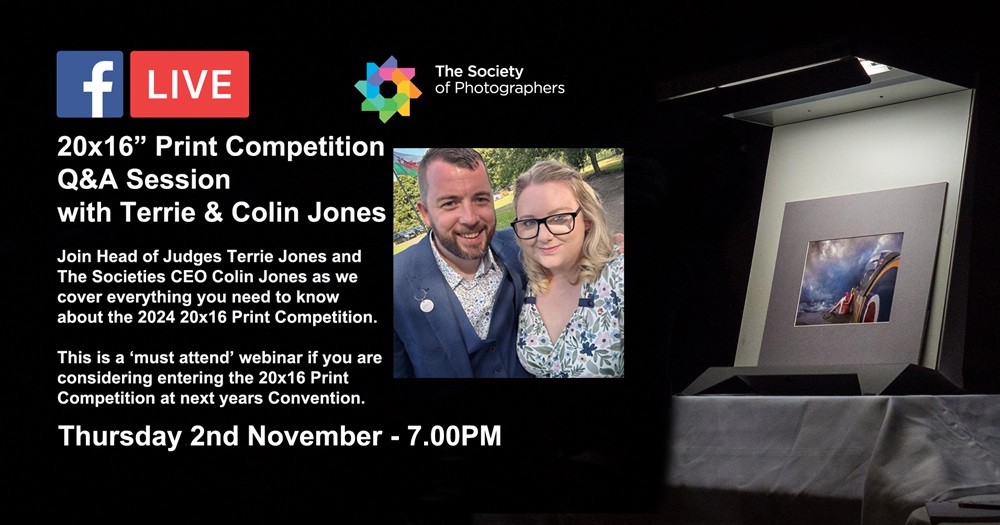 Join Head of Judges Terrie Jones and The Societies CEO Colin Jones as we cover everything you need to know about the 2024 20×16 Print Competition.
Beginning with a 'how to' guide to booking in your entries online, Terrie and Colin will answer your questions LIVE during this 60 minute session. We aim to cover everything from competition rules and guidelines, to category definitions, to the scoring guide, judging timetable and potential prizes to be won!
This is a 'must attend' webinar if you are considering entering the 20×16 Print Competition at next years Convention… ask your questions LIVE in the chat or submit them in advance to terrie@thesocieties.net
Thursday 2nd November 2023 – 7.00PM
Live on: The Societies of Photographers (Members Only) Group
If you are a member of the group, you can view any of the previous webinars via the Guides tab.
If you are a member but don't use Facebook, don't worry, the archive of previous webinars can be found on our Photographic Webinars section of the website.
To obtain the password, please contact The Societies Head Office for more details.
Want to watch but not a member?
Try our Professional Membership for 2 months free! Start your FREE trial now >>> https://thesocieties.net/try/