Sony awarded 5 EISA awards (Expert Imaging and Sound Association)
ADVANCED FULL-FRAME CAMERA 2023-2024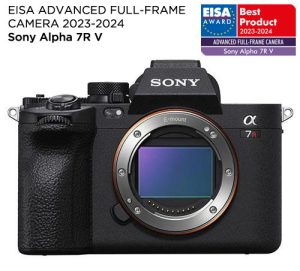 With the Alpha 7R V, Sony has married a high-resolution 61-million-pixel full-frame sensor with a sophisticated subject-recognition autofocus system powered by a dedicated AI processor. It can recognise and track focus on a broad range of subjects, including humans, animals, birds, insects, cars, trains, and airplanes.
CONTENT CREATOR CAMERA 2023-2024
This interchangeable-lens full-frame camera is intended for content creators who wish to record vlogs, livestreams, or video interviews. With its 12.1-million-pixel sensor and fast BIONZ XR processor, the ZV-E1 can record 4K video at 60fps in 10-bit 4:2:2 colour with full pixel readout, and minimal rolling shutter.
LENS OF THE YEAR 2023-2024
Sony's zoom lens is an excellent solution to a new problem. Shooting video requires a wider image angle to cover the same image height, because of the 16:9 aspect ratio. Therefore, the FE 20-70mm F4 G provides a wider focal length than most other standard zooms on the market.
STANDARD PRIME LENS 2023-2024
This G Master lens offers the highest optical performance and a large f/1.4 aperture in a relatively light and compact format.
Also, MULTIMEDIA SMARTPHONE 2023-2024
Of the Xperia 1 V's many welcome features, it's the high-quality camera system that truly stands out.
Check out all the winners here https://eisa.eu/awards/photography/