Webinar: Outdoor Flash Made Simple with Panikos Hajistilly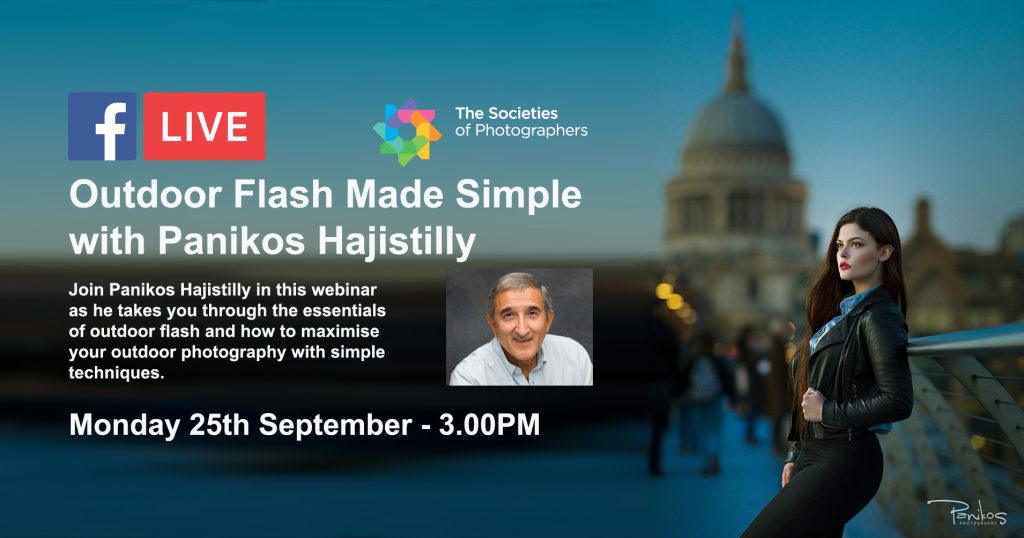 Join Panikos Hajistilly in this webinar as he takes you through the essentials of outdoor flash and how to maximise your outdoor photography with simple techniques.
In this webinar we will cover
1) Some essential technicalities for understanding what type of flash to use and when.
2) What is HSS (High Speed Sync) and when to use it.
3) What settings to have your camera and flash on for low light and in sunlight.
4) What flash guns/heads do you really need?
5) What modifiers are best
6) Overpowering sunlight with flash – can it be done?
7) Are 2 hands enough? Hazards of working with flash outdoors
Monday 25th September 2023 – 3.00PM
Live on: The Societies of Photographers (Members Only) Group
If you are a member of the group, you can view any of the previous webinars via the Guides tab.
If you are a member but don't use Facebook, don't worry, the archive of previous webinars can be found on our Photographic Webinars section of the website.
To obtain the password, please contact The Societies Head Office for more details.
Want to watch but not a member?
Try our Professional Membership for 2 months free! Start your FREE trial now >>> https://thesocieties.net/try/