PermaJet Launch New Range of Premium Fine Art Papers
Building on the strong success of the market leading Museum Heritage 310, PermaJet has developed four new Fine Art papers and introduces the 'Heritage Range'.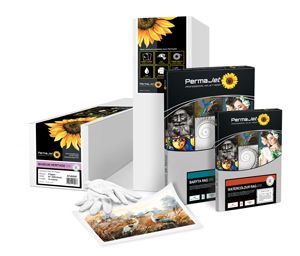 The Heritage Range is a brand-new selection of premium inkjet papers from PermaJet that are set to launch in October 2022, with a public preview at The Photography Show in September.
These exceptional new papers are 100% cotton and OBA free, making them ideal for any fine art project requiring the highest grades of archival standards. As a quartet, each surface offers a specialist finish or texture to honour and define your creative work.

These new papers are joining PermaJet's flagship fine art paper, Museum Heritage 310, an award-winning textured paper.
The new Heritage range includes:
Baryta Rag 310 – An exquisite satin surface with a natural white base, this incredible cotton baryta offers printmakers remarkable colour tones and deep rich blacks. It takes PermaJet into an area not previously covered by their range.
Smooth Rag 310 – A sensationally smooth matt surface with a natural white base. Achieve subtlety, poise, and detail like never before.
Etching Rag 310 – A wonderful delicately textured paper with a neutral base, its softness belies its ability to reproduce sharp stunning and colour accurate prints.Watercolour Rag 310 – A beautiful watercolour base with soft texture and a natural white base, perfect for the definition and reproduction of fine art and illustrations.

Museum Heritage 310 –Our existing, award-winning Fine Art paper offering a textured matt surface and mid-white base producing prints with outstanding detail and clarity.
Photography News Editor, Will Cheung, said "I thought PermaJet's extensive paper range had all bases covered but the new Heritage series proved me wrong and that there's always room for more options. The new quartet of non-OBA papers proved a delight, being very user-friendly, and the results they produced were first rate and it was notable how lively with their colour reproduction the three textured papers were. It's early days, but I reckon Baryta Rag 310 could be my 'go to' semi-gloss paper. It's definitely worth trying a sample pack of these new papers."
The Heritage Range is available in A4 to A2 sheets and rolls ranging from 17" to 60". To try the Heritage Range or find out more information visit www.permajet.com or call the team on +44 (0)1789 739200.