DxO FilmPack 6.3 introduces support for the latest cameras and drones, Apple M1 compatibility, and user experience improvements
DxO FilmPack 6.3, the classic analog film simulation software and photo editor, benefits from updates to DxO's renowned camera calibrations and lens corrections, making it compatible with the latest cameras and drones on the market.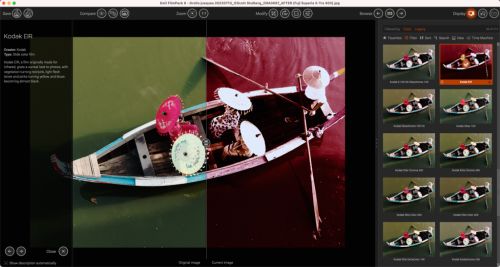 "We've always taken a scientific approach when reproducing these classic analog film stocks," explained Fabrizio Dei Tos – Navalesi, Product Manager for DxO FilmPack, "and keeping up with the latest products on the market is a big part of FilmPack's ongoing evolution. It's great to see this new gear supported."
Newly Supported Cameras
This update extends DxO FilmPack's compatibility with the newest cameras and drones currently available, and supports the following devices:
Parrot ANAFI Ai, ANAFI
OM System OM-1
Panasonic GH6
User Experience Improvements
User experience is enhanced through the addition of new options, such as being able to select in the file browser whether a RAW file and JPEG version of the same photo are grouped together or viewed individually, and the ability to control the automatic download of optics modules.
M1 Compatibility and Patches
Version 6.3 receives native support for Macs equipped with the M1 chip. It also benefits from the latest patches in order to deliver optimized performance.
Price and Availability:
DxO FilmPack 6.3 is currently available in Windows and Mac versions on the www.dxo.com store at the following prices:
DxO FilmPack 6 ESSENTIAL Edition : £75.
DxO FilmPack 6 ELITE Edition: £129.
The upgrade to version 6.3 is free for all customers who own version 6.