Fujifilm launches quickest in-store photo printing service yet
As demand for photo printing continues to boom, Fujifilm has launched its new FUJIFILM Easy Print software and PHOTO by Fujifilm Kiosk to give retailers the ability to easily provide instant, affordable prints to customers in store.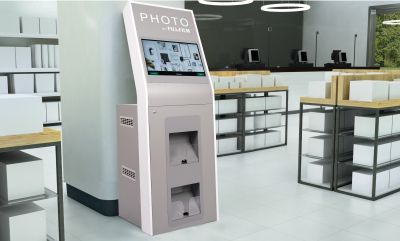 Already in use at John Lewis & Partners' flagship Oxford Street store, FUJIFILM Easy Print has been developed to make photo printing from a smart phone possible with four simple steps. Customers simply scan the QR code on screen, select images from their camera roll, chose the size and number of copies, then review the order and print.
With a small footprint of just under a half a metre squared (61.6x67cm), the compact PHOTO by Fujifilm Kiosk uses this innovative software to offer instant prints to customers in stores. Minimising the retail space taken up on the shop floor, the unit can house up to two DE100XD, offering size capabilities ranging between 5×7" to 8×10".
With over 1.2 trillion photos taken on a smart phone or camera every year, this new solution is aiming to make it easier and quicker than ever for consumers to print their special memories, while giving retailers an autonomous way to provide the service.
Theo Georghiades, General Manager of Fujifilm Imaging Solutions UK, explains: "Photo printing has returned in a significant way, and we want to help retailers provide the easiest service to their customers with a quick and easy solution. With our latest FUJIFILM Easy Prints software working through a compact intuitive PHOTO by Fujifilm Kiosk, taking up minimal floor space, customers can make their prints themselves with no input required from store staff. Image data is stored for eight hours and no personal data is stored at all so retailers and their customers can rest assured this service is completely GDPR compliant."
An affordable solution for retailers wanting to add photo printing to their offering, the standardised kiosk that automatically updates its software is simple to operate and maintain, saving time for store assistants working with them. The reliable unit will also ensure the highest quality of instant prints for customers that Fujifilm has developed from years of experience in the photo printing sector.
Theo adds: "We want everyone to be able to easily access the magic of printing your special memories, so photos do not just stay on our phones. With FUJIFILM Easy Prints and PHOTO by Fujifilm Kiosk, this is easier than ever for retailers to make a part of their shop floor, without causing extra work for their employees or disruption to their retail space."
For more information on how to implement the FUJIFILM Easy Print software and PHOTO by Fujifilm Kiosk in your store, Fujifilm are hosting an event on the 21 June from 10am to 1pm. To register, visit: click here.