Benro launches new TablePod Flex and KoalaPod tripods
As photography evolves, photographers, film makers and content creators demand more from their equipment to help them produce the content they are after. Benro recognises that it must offer a broader range of support and stabilisation solutions to meet these demands. Benro has long been committed to providing support to a global community of creators who count on our support systems to help them tell their unique and diverse stories and continue with this commitment by introducing two new support solutions – the TablePod Flex and KoalaPod tripods.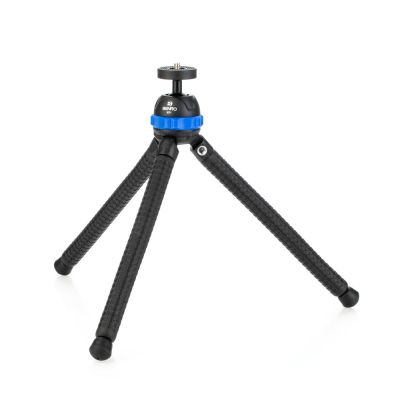 Benro TablePod Flex
The New Benro TablePod Flex tripod combines rigid carbon fibre legs with flexible legs that offer a modular system that allows you to set-up and use the tripod in a range of configurations. You can mix the flex legs with the carbon fibre legs to create unique configurations that can be used like a traditional tripod, or can be wrapped around an object for use in almost any location. When not in use the flexible legs are stored inside the rigid carbon legs.
With three individual adjustable leg settings, TablePod Flex can shoot in tight spots – simply press the side button on the leg, adjust, and shoot!
The TablePod Flex kit includes an arca-combatible ballhead that features 360° pan rotation with built-in pan scale, an arca – compatible quick release plate for easy camera attachment and there are two built-in 90° notches so the head can quickly be switched between Landscape and Portrait orientations. The head features two ¼"mounts that allow you to attach additional accessories or connect the flex legs to use as accessory arms.
Included with the kit are 3 flex legs, a set of 3 feet, a phone holder with cold shoe mount that fits most smartphones and a case with carabiner for attaching to your backpack or camera bag. Also included is an auxiliary locking ring that helps the flexible legs lock securely.
Folding up to a compact size – just 30.5cm, this kit weighs 0.43kg and will support up to 3kg making it truly portable and is perfect for photography, content creation, live streaming, virtual meetings, and much more.
The TablePod Flex Kit is available now with SRP's inc VAT of TPKFL £140
Benro KoalaPod
Get ready to flex your creative muscles with the innovative, flexible KoalaPod from Benro.
The KoalaPod is ideal for mobile devices and small compact cameras. It features a built-in ballhead with ¼" mounting thread and can easily switch between landscape and portrait format.
When wrapping the legs around an object you can use the included auxiliary lock ring to hold it in place, in addition a quick lock clamp is also included which clips the legs together, so they don't drift apart. Three built-in accessory mounts allow you to add additional legs to mount microphones, LED lights and more. The KoalaPod is available in two versions.
The standalone KP1 KoalaPod includes the tripod, quick-lock clamp, auxiliary locking ring and drawstring bag. While the KP1K KoalaPod Kit adds a folding smartphone holder and 2 additional legs to hold accessories.
In addition, further accessory legs can be purchased if required.
KoalaPod is just 26.6cm long when folded, weighs 0.22kg and will support 1.5kg
The KoalaPod range is available now with SRP's inc VAT of
• KP1 £35
• KP1K £45
• KP1LEG1 £9
•          KP1LEG2          £9
For further product information please visit:
For further product information please visit: