Webinar: How to Create A Brand Identity for your Photographic Business with Adrian and Bergit Barnett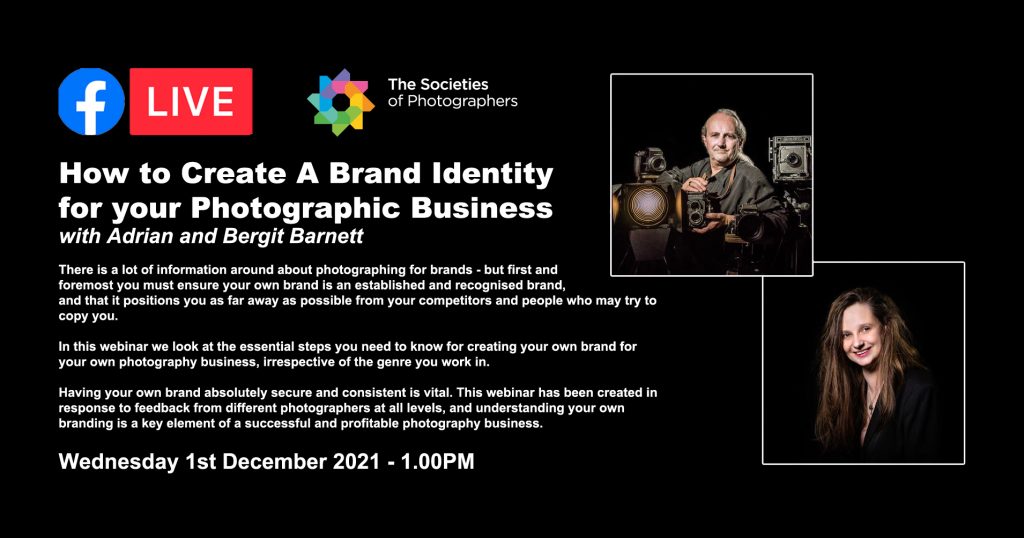 There is a lot of information around about photographing for brands – but first and foremost you must ensure your own brand is an established and recognised brand, and that it positions you as far away as possible from your competitors and people who may try to copy you.
In this webinar, we look at the essential steps you need to know for creating your own brand for your own photography business, irrespective of the genre you work in.
Having your own brand absolutely secure and consistent is vital. This webinar has been created in response to feedback from different photographers at all levels, and understanding your own branding is a key element of a successful and profitable photography business.
Whatever your level of experience, then everyone can learn something from this webinar.
Wednesday 1st December 2021 – 1.00PM
Live on: The Societies of Photographers (Members Only) Group
If you are a member of the group, you can view any of the previous webinars via the Guides tab.
If you are a member but don't use Facebook, don't worry the archive of previous webinars can be found on our Photographic Webinars section of the website.
To obtain the password please contact The Societies Head Office for more details.