The Rotolight NEO 3 and AEOS 2: Officially the most funded photography & video led lights in Kickstarter history.
As its first-ever Kickstarter campaign enters its final 24 hour period, Global leaders in LED lighting solutions, Rotolight, has broken all records as the most funded photography & video LED light in Kickstarter history with over $725,000 raised in just 35 days for the revolutionary Rotolight AEOS 2 and NEO 3.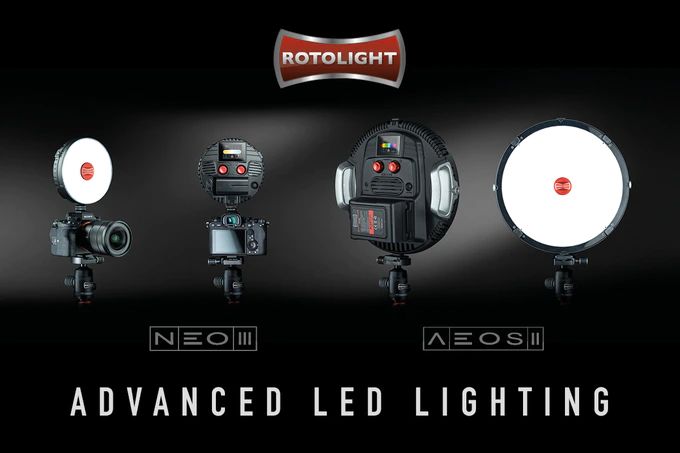 The unprecedented support for the new lights demonstrates the global appetite for innovations in the photography and video markets and underlines the significant feature upgrades that Rotolight has built into the new products. 
With the Rotolight NEO 3 arriving as the brightest on-camera LED light ever produced, and the AEOS 2 as the thinnest and lightest 1 x 1 panel ever made, (at under 1.4kg) both lights also boast a new and intuitive touchscreen control and allow photographers to flash in any one of 16.7 million colours or 2,500 digital filters with zero recycle time.
Since the campaign launched on the 12th of October, a number of groundbreaking accessories have been revealed, including the world's first SmartSoft™ Box and both universal and Bowens S-Mount adapters. These accessories offer ultimate versatility and control for creatives and have helped to perpetuate the campaign into unchartered territory.
"The whole team at Rotolight are delighted to have achieved record-breaking results with our first-ever Kickstarter campaign. The NEO 3, AEOS 2 and new accessories represent significant advancements in photo/video technology and this has been recognised by our campaign backers, and loyal Rotolight customer base," said Rotolight CEO, Rod Aaron Gammons, CEO, Rotolight. Continuing: "We'd like to thank everyone who has got behind the campaign so far, and to remind everyone to check out all of the updated bundles that are available before this record-breaking campaign ends." 
Rotolight's AEOS 2 and NEO 3 Kickstarter campaign comes to a close at 9 pm (GMT) on the 16th of November and early adopters' lights and accessories will ship from March 2022. As we near approach this, we ask all of our friends and colleagues in the specialist photo/video press arenas to help us to highlight both the campaign's success and to remind audiences that discounts of up to 25% are available on individual products and for the incredible product/accessory and experience bundles.
Back the campaign now at Kickstarter