Panasonic Announces New Full-Frame Box-Style Mirrorless Camera LUMIX BS1H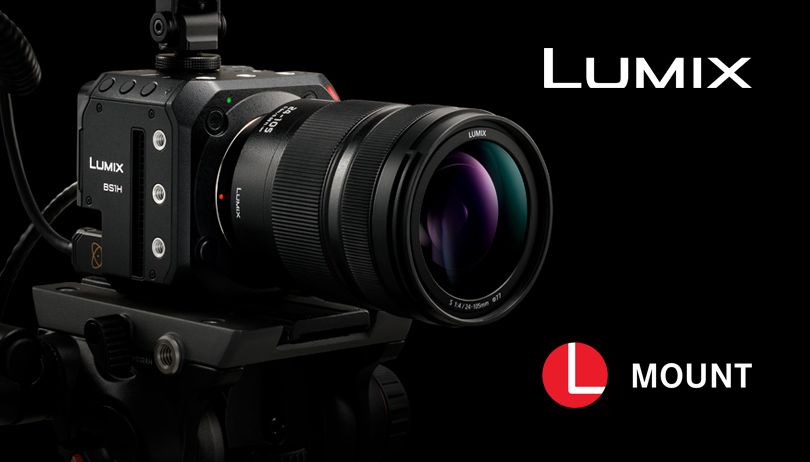 Panasonic is proud to announce the release of its new full-frame box-style LUMIX Mirrorless Camera DC-BS1H. The LUMIX BS1H is a versatile box-style camera combining the cinema-quality video performance of the LUMIX S1H into the easy-to-deploy box-style profile. Accommodating a 24-megapixel full-frame sensor with Dual Native ISO technology, the LUMIX BS1H further enhances its potential including 6K full-area high resolution recording, impressive bokeh, low-light performance, wide dynamic range of 14+ stops V-Log and more.
With its high connectivity and mobility, users can flexibly build the BS1H up into their ideal camera system according to the scenario. The consistent look of images minimises post-production processing when other Panasonic LUMIX production cameras such as the BGH1, a Micro Four Thirds box-style camera, or the S1H, a full-frame mirrorless cinema camera, are used together.
The LUMIX BS1H will be available at RRP £2,999 (inc. VAT) from mid-November.
Cinema production quality video with 35mm full-frame sensor
The BS1H contains a 24.2-megapixel 35mm full-frame CMOS sensor (35.6 mm x 23.8mm) that captures 6K resolution. With an active resolution of 6,024 x 4,016, the BS1H delivers approximately 24.2 million photosites. Adoption of an OLPF (Optical Low Pass Filter) suppresses moire and false colour. The image sensor with Dual Native ISO in the BS1H minimises noise generation by choosing an optimal circuit to use according to the sensitivity before gain processing. In combination with optimum signal processing by the Venus Engine, it assures maximum ISO 51200 high sensitivity recording with minimum noise.
Maximising the use of the pixels in the full-frame image sensor, the LUMIX BS1H is capable of 6K/24p, 5.4K/30p (3:2 aspect ratio) or 5.9K/30p (16:9 aspect ratio) high-resolution, smooth video recording. It also provides 10-bit 60p 4K/C4K*1 HEVC video recording when using the image area equivalent to Super 35mm. The 4:2:2 10-bit 4K 30p is recordable in H.264 at its full area. Its high-resolution data can also be used for creating 4K videos with higher image quality or for cropping images in 4K.
Dynamic range measures the luminance range that a digital camera can capture. The LUMIX BS1H delivers 14+ stops of Dynamic Range with a V-Log, which are virtually the same as those of the Panasonic Cinema Cameras, to precisely reproduce everything from dark to bright areas.
The ability to capture accurate colours and rich skin tones is a must for any filmmaker. The LUMIX BS1H imports the renowned colorimetry of the VariCam line-up of cinema cameras. The LUMIX BS1H contains V-Log/V-Gamut capture to deliver a high dynamic range and broad colours. V-Log renders a very flat image while maintaining all of the colour information within the image. This means that there is a greater level of play when the images are put through post-production processes. The CMOS sensor of the LUMIX BS1H achieves a wide colour gamut known as V-Gamut, which is the BS1H's optimum colour space and achieves a colour space that is wider than BT.2020. V-Log has log curve characteristics that are somewhat reminiscent of negative film and V-Gamut delivers a colour space even larger than film.
In addition to HDR (High Dynamic Range) video recording, the camera records video with a designated gamma curve compatible with ITU-R BT.2100, and the user can now choose Hybrid Log Gamma (HLG) in Photo Style.
The LUMIX BS1H also provides real-time subject detection with an advanced deep learning technology to set precise focus on the target subject such as humans and animals even if they are moving fast.
* Corresponding to 4K (4096×2160) as defined by Digital Cinema Initiatives (DCI).
A wide variety of recording formats, frame rates and resolutions in maximum 6K
The LUMIX BS1H is capable of 4:2:2 10-bit 4K 60p/50p HDMI output. Adopting a new heat dispersion structure, it achieves unlimited video recording in a variety of recording formats, including 4:3 Anamorphic mode, to meet professional needs.
Moreover, with two options for RAW workflow, the BS1H satisfies wide-ranging creative requirements. [5.9K] / [4K] / [Anamorphic (4:3) 3.5K] 12-bit RAW video data can be output over HDMI to save Apple ProRes RAW on the Atomos Ninja V or save Blackmagic RAW on the Blackmagic Video Assist 12G HDR.