Benro Announces the Launch of the new Induro Series Hydra2 Waterproof Travel Tripod
• Fully waterproof new travel tripod joins the Induro Classic Range
• Truly portable with reverse folding mechanism allowing it to fold down to just 42.4cm
• Induro design and Benro precision engineering make it a reliable and robust travel companion for adventurous photographers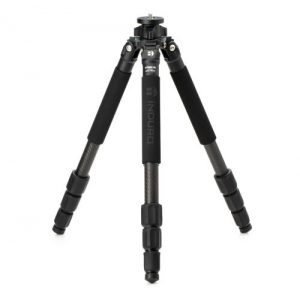 The Hydra 2 waterproof tripod provides maximum stability, in a compact, reverse-folding design, perfect for traveling photographer. It folds down to an impressive 42.4cm, yet it reaches a maximum height of 153cm with the center column extended. A unique carbon fiber weave maximizes the strength-to-weight ratio while remaining stealth out in the field.
It's waterproof leg locks and feet makes this tripod truly ready for the elements, wherever your shot takes you.
It features 5-sections, supporting a maximum load of 17kg. The metal twist locks can be used in any environment with maximum functionality. They are also dust resistant and oversized, so there's no need to remove your gloves when the cold weather hits. Engineered for stability at any angle, our three-stop adjustable leg locks and independent leg spread, provide lower angles and maximum stability. The oversized CNC machined center column locking collar makes it easy to secure the center column in any vertical position.
With interchangeable rubber feet and stainless-steel spikes, you can enhance your stability on any terrain. The built-in bubble level helps maintain a level shot, while the attached weight hook helps maximize your tripod's stability.
There are three built-in allen keys on these tripods, one located in the rubber foot for adjusting the tension of the leg stop locks on the spider. The other two on the weight hook, one used to tighten down the set screw on the flat base and the other used to remove the accessory screw on the spider. The Hydra2 also includes a tool kit, drawstring bag and carrying case for storage.
The Hydra2 joins three existing models in the Induro Classic range of carbon fibre tripods, offering varying benefits for photographers depending on their requirements. All precision engineered at Benro's state of the art production facility, the full range with specifications is:
Induro Hydra2: 5 section carbon waterproof tripod with 17kg maximum weight capacity, 153cm maximum height, folding to just 42.4cm
Induro Classic BICLT203: three section carbon tripod with 16kg maximum weight capacity, 160cm maximum height, folding to 62.5cm
Induro Classic BICLT303: three section carbon tripod with 20kg maximum weight capacity, 161.5cm maximum height, folding to 63.5cm
Induro Classic BICLT204: four section carbon tripod with 16kg maximum wight capacity, 156cm maximum height, folding to 54cm
All Induro tripods are supplied with a toolkit and carrying case for storage and transport. The Hydra2 comes with three on-board allen keys allowing for fine adjustments to tripod set up while out in the field.
The Induro Hydra2 and Classic tripods are available now with SRP's inc VAT of
HYDRA2 £450
BICLT203 £330
BICLT303 £380
BICLT204 £350
See the website for more info