Back by Popular Demand! The Societies of Photographers Announce 2022 Business School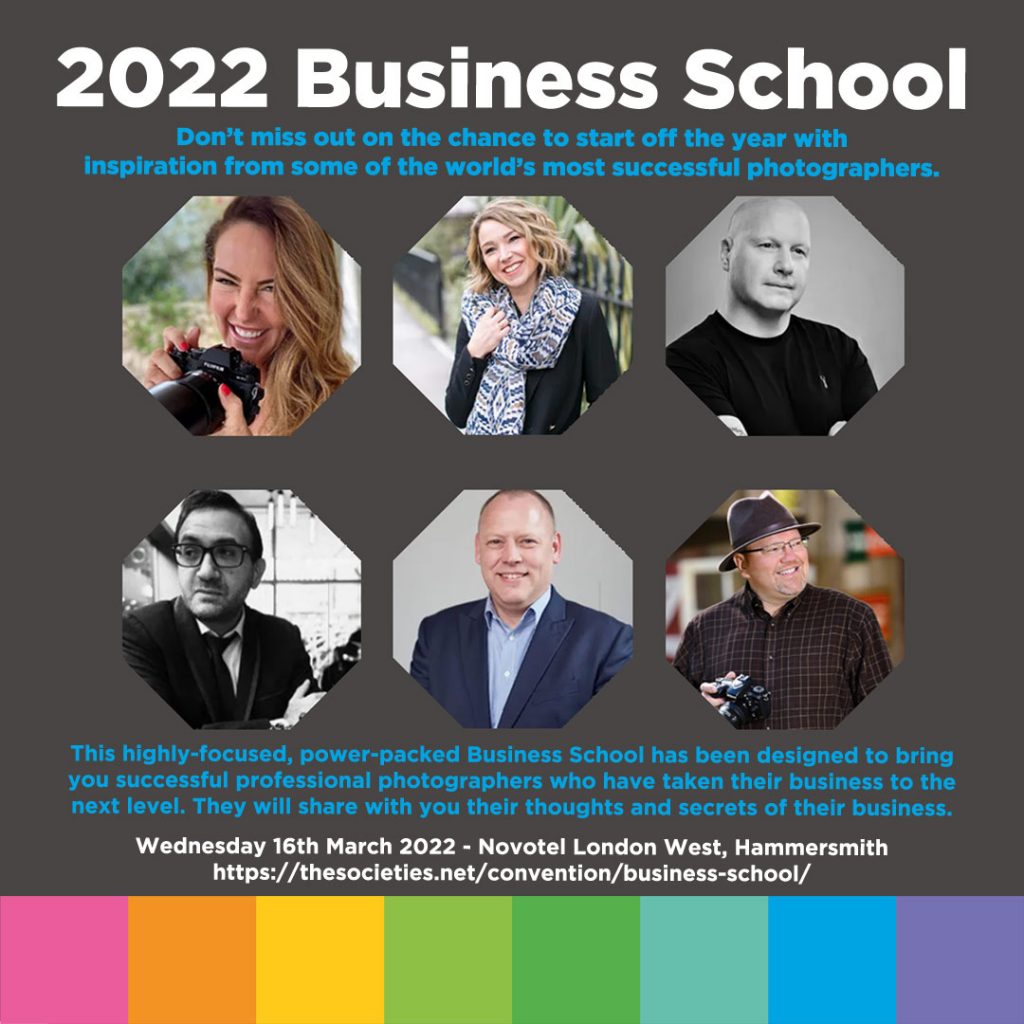 The Societies of Photographers are delighted to announce that the Business School is back for the 2022 London Photo Convention.
Start off the year with inspiration from some of the world's most successful photographers on Wednesday 16th March 2022 with the Business School.
6 highly-focused, power-packed classes have been confirmed to give you the edge and help take your business to the next level, ending the day with a Q&A Session.
Schedule
9:00-10:00 – Gillian Devine – Branding for Business Success and Profit
10:30-11:30 – Amber Leach – How to automise your business to save time and make money
12:00-13:00 – Jeff Brown – How to Make A Lot of Money and Build a Premium Photography Brand Using LinkedIn in 2022
14:00-15:00 – David Hakamaki – Stop Starving – Making Money in Photography
15:30-16:00 – Matt Clark ACII – Your Business Resilience – the Aaduki Way
16:30-17:30 – John Nassari – How to market to your ideal client and supercharge your business
17:30-18:00 – Gillian Devine– Final session and Q&A
The Societies' Business School has created an amazing reputation and is an intrinsic part of the annual Convention. All delegates who attend leave with a wealth of information to plough straight back into their businesses. The theme of the Business School in 2022 is business development and growth – how to best manage your business with creativity being the consistent thread that runs through the programme. The school will be hosted and steered by Gillian Devine, one the most motivational speakers and one who has a great reputation for designing and influencing some of the most successful businesses within our industry.
Tickets
£150 (ticket price includes a sandwich pack-up lunch)
20% off 2022 Business School tickets for The Societies of Photographers Members.
For full details and to book on to the Business School please see:
https://thesocieties.net/convention/business-school/
The 2022 Business School is proudly sponsored by One Vision Imaging and Aaduki Multimedia Insurance