A new look for Digitalab!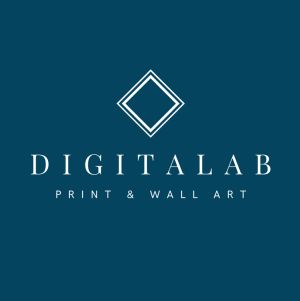 Digitalab recently celebrated its SEVENTY SECOND birthday this month and we couldn't be more excited to enter our seventy third year in business and beyond.
Our current logo has been with us in various forms since our relocation to the Ouseburn area of Newcastle in 2007. For a design that's seen us through so much radical change in the industry and the growth & evolution of the lab itself, it feels like such a familiar presence to us all here and our fantastic customer base.
It is always of the utmost importance however, for a brands identity to represent the core values and 'soul' of that business. Over the past five years Digitalab has grown and evolved at a staggering rate with a drive to constantly review all aspects of our business and implementing improvements and additions to our service. We've honed in on our client's needs, evolved and expanded our product range, reinforced our commitment to the industry by locking down our site and our community and marketplace have grown tremendously. It felt like the right time to take a closer look at our logo, what it represents and give it some TLC.
The Digitalab community is a diverse collection of professional photographers from all walks of life and representing so many different genres. A multitude of creators and business owners at different stages of their careers. All of our amazing customers have one thing in common though: they work constantly to grow their skill set, evolve their work and grow their businesses. Elevating the level of design and aesthetics within our own brand is our way of reflecting the quality of the work our community puts into their own businesses, and embodies that spirit of growth.
The most important aspect however is we're still us! Still the same team that has always been there as the print partners of your businesses, Still continuing to innovate with new products and services and still the same team that you can always pick up the phone to and discuss any aspect of our business. We're on a mission to help photographers around the world turn passion and skill into opportunity, and with this first step of our visual overhaul, ushering in a new era for Digitalab to do just that. Without any further delay we'd love to introduce you to our new logo and visual identity!