Fujifilm launches FUJINON Lens – GF35-70mmF4.5-5.6 WR
FUJIFILM Corporation (President: Teiichi Goto) is pleased to announce the launch of the "FUJINON Lens GF35-70mmF4.5-5.6 WR" (GF35-70mmF4.5-5.6 WR) in November 2021. It will be a new addition to the lineup of interchangeable GF lenses designed for GFX Series of mirrorless digital cameras, incorporating the large-format sensor*1, approximately 1.7 times larger than a full-frame 35mm sensor.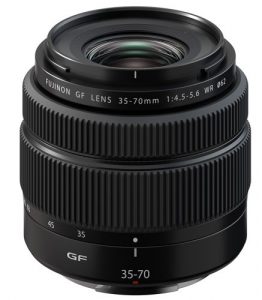 The GF35-70mmF4.5-5.6 WR covers the most frequently-used focal length range from 35mm in wide angle to the standard 70mm (equivalent to 28mm-55mm in the 35mm format), producing premium-quality images in a wide variety of situations. It is the most compact and lightest in the GF zoom lenses to provide excellent portability. The highly portable form factor will broaden the scope of applications for GFX camera systems, including the FUJIFILM GFX50S II mirrorless digital camera announced today.
The new GF35-70mmF4.5-5.6 WR lens has a focal length range from 35mm to 70mm (equivalent to 28mm-55mm in the 35mm format) and high resolution capabilities despite being the most compact and lightest in the GF zoom lenses, weighing approximately 390g and measuring 96.4mm (wide-angle end). The retractable barrel structure, which stores the lens barrel compactly, reduces the length to 73.9mm when fully collapsed for added portability. It would reduce the physical burden even when used as a walkaround lens, enabling casual hand-held shooting for snapshots, landscape photography and portraits. The lens can also take a close-up shot of a subject approximately 25cm from the front-most of the lens to accommodate a broad range of shooting situations such as photography of a meal on a table. The fast, silent and highly-accurate AF system attains focus on a targeted subject smoothly to capture every photo opportunity. The lens has a dust- and moisture-resistant structure and can operate at temperatures as low as -10°C, which enables users to continue shooting in light rain or dusty place.
Today, Fujifilm has unveiled the updated development roadmap for GF lenses*2, offering basic specifications for lenses to be added to the lineup including an ultra-wide-angle zoom, a large-diameter standard prime lens and a tilt & shift lens. With the 17-lens lineup presented in the roadmap that covers a wide shooting range, Fujifilm will continue to offer the joy of photography using the GFX Series.