Webinar: Business & Marketing Planning for Photographers with Nina Mace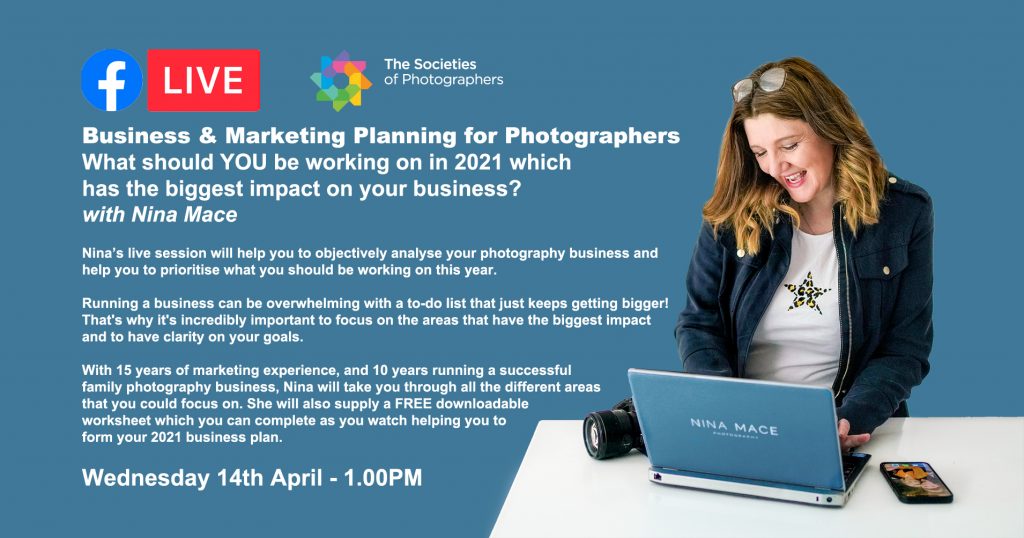 Business & Marketing Planning for Photographers – What should YOU be working on in 2021 which has the biggest impact on your business? with Nina Mace
Nina's live session will help you to objectively analyse your photography business and help you to prioritise what you should be working on this year.
Running a business can be overwhelming with a to-do list that just keeps getting bigger! That's why it's incredibly important to focus on the areas that have the biggest impact and to have clarity on your goals.
With 15 years of marketing experience, and 10 years running a successful family photography business, Nina will take you through all the different areas that you could focus on. She will also supply a FREE downloadable worksheet which you can complete as you watch helping you to form your 2021 business plan.
Wednesday 14th April 2021 – 1.00PM
Live on: The Societies of Photographers (Members Only) Group
If you are a member of the group, you can view any of the previous webinars via the Units tab.
If you are a member but don't use Facebook, don't worry the archive of previous webinars can be found on our Photographic Webinars section of the website.
To obtain the password please contact The Societies Head Office for more details.