New, lightweight designs with simple and intuitive controls offer class-leading weight capacity and strength-to weight ratio
Dual panoramic mode allows you to pan the head from its base in addition to the Quick Release platform
GX range adds low profile design, allowing for an even higher payload and smoother, more controllable camera movement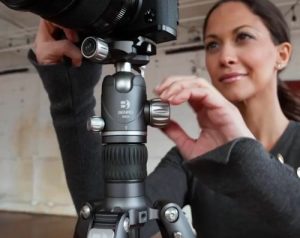 Benro today announces the launch of its new lightweight VX and GX Ballheads for precision shooting. Comprising six models, the series delivers lighter head design combined with quality materials for second-to-none strength-to-weight ratio. Dual panoramic capability offers full 360o rotation from both the Quick Release platform and base of the ballheads, with fine calibration marks for fast and highly accurate positioning. The GX range debuts a new, low-profile design for even higher payload capabilities and smoother, more precise control.
The new ranges twin superior quality with simple design for intuitive operation with features that take all the guesswork out of tripod operation, allowing photographers to focus on getting the shot. Camera positioning and friction control for the unlocked central ball are managed via a single control knob, for accurate, fluid movement while removing the need for multiple, distracting controls. An on-board bubble level adds confidence that each shot is level without the use of external tools.
The new, low-profile design of the GX heads lowers the centre-of-gravity of an attached camera and lens, reducing the amount of leverage on the head and helping it to hold even more securely. They are a powerful tool for photographers who need portability in their camera gear without wanting to compromise on strength, precision or performance.
Both VX and GX ballheads feature a newly designed, lightweight Arca-compatible Quick Release plate which enables cameras to be attached and removed quickly and simply. Crafted from CNC-machined aluminium, the heads offer reduced weight but no loss of payload and, together with the increased locking strength of the central ball, mean you can trust your gear will be safe and fully supported. Additional safety features such as a pull-and-twist safety lock on the QR plate add to photographers' ability to trust their tools and work with a clear head.
The VX and GX heads feature a 3/8" female thread in the base, meaning they will work across Benro's tripod range, and with other tripods using the same size attachment. Updated elegant and lightweight design means the heads are pleasing to use and transport.
Product videos:
VX Ballheads: https://youtu.be/HAUDnBLYpkc
GX Ballheads: https://youtu.be/c-AhsLbC9nw
Benro GX Ballheads stockists' information here.
Benro VX Ballheads Stockists' information here.
Pricing
GX Low Profile Dual Panoramic Ballheads Pricing GB £ inc. VAT
CODE
DESCRIPTION
EAN
PACK QTY
SRP
GX25
Benro GX25 Low Prof Ballhead PU56 Plate
6931747317363
12
£110
GX30
Benro GX30 Low Prof Ballhead PU56 Plate
6931747317370
12
£130
GX35
Benro GX35 Low Prof Ballhead PU56 Plate
6931747317387
12
£150
VX Dual Panoramic Ballheads Pricing GB £ inc. VAT
CODE
DESCRIPTION
EAN
PACK QTY
SRP
VX20
Benro VX20 Ballhead PU50X Plate
6931747317394
12
£80
VX25
Benro VX25 Ballhead PU50X Plate
6931747317400
12
£95
VX30
Benro VX30 Ballhead PU50X Plate
6931747317417
12
£110
Specifications
GX Low Profile Dual Panoramic Ballheads Specifications
Model (mm)
Ball Diameter (mm)
Height (mm)
Base Diameter (mm)
Tripod Connection thread size
Weight (kg)
Weight Capacity (kg)
GX25
30
85
41
3/8"
0.34
25
GX30
36
85
47
3/8"
0.38
30
GX35
40
90
51
3/8"
0.40
35
VX Dual Panoramic Ballheads Specifications
Model (mm)
Ball Diameter (mm)
Height (mm)
Base Diameter (mm)
Tripod Connection thread size
Weight (kg)
Weight Capacity (kg)
VX20
30
90
40
3/8"
0.28
20
VX25
36
95
46
3/8"
0.34
25
VX30
30
100
50
3/8"
0.38
30