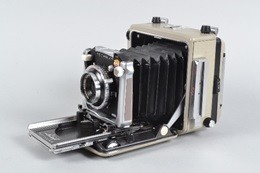 A group of top-end larger format cameras in good working order are estimated to fetch £10,000 when they go under the hammer at Special Auction Services in Newbury on Tuesday 27th April 2021.

The vendor, a mining engineer, had a lifelong interest in photography particularly in the areas of architecture, travel and landscape. When his eyesight started to fail, he purchased these cameras from high end dealers in England, Germany and Austria and was using them until 2018 when his sight deteriorated even further, and he could no longer take photographs.
Four of the six cameras being offered for sale are Linhof's – often described as the Leica's of the larger format cameras, the superior quality cameras are expected to prove popular; a Linhof Press 70 Camera is estimated at £1,000-1,200, a Technika V Camera is expected to fetch £1,400-1,600, while a Linhof Technika V Camera Outfit and an Areo Press Camera (Built for Bundeswehr, the German Military) are expected to fetch £1,500-2,000 each.

In addition, a Bertram BCI Press Camera carries and estimate of £600-800 and a fine example of a Horsman SW612 Professional Camera carries an estimate of £1,000-1,200
These cameras are still used for many applications, such as landscape photography, advertising photos, fine-art photography, scientific applications and generally for images that will be enlarged to a high magnification while requiring a high level of detail.
Camera specialist Mike Spencer says, "We are privileged to have such an interesting collection of cameras. They are all fully working, in great condition and reasonably priced which will attract a lot of interest at auction."
www.specialauctionservices.com
Follow us on Twitter @SpecialAuction1