Canon celebrates significant milestone with production of 150 million interchangeable RF and EF lenses
Canon Inc. announced today the achievement of a new lens-manufacturing milestone with the production on January, 2021, of the Company's 150-millionth RF and EF1 series interchangeable lens for EOS cameras—an RF70-200mm F2.8 L IS USM telephoto zoom lens (released in November 2019).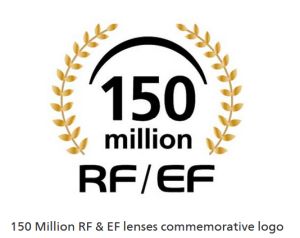 Production of interchangeable RF and EF lenses for Canon EOS-series AF (Autofocus) single-lens reflex film cameras began in 1987 at the Company's Utsunomiya Plant. Over the years, RF and EF lenses have gained support from a wide range of users and production has since expanded to a total of four manufacturing bases, including Canon Inc., Taiwan; Canon Opto (Malaysia) Sdn. Bhd.; and Oita Canon Inc. in southern Japan.
EF lens production passed the 10-million-unit mark in 1995 and crossed the 50-million-unit threshold in 2009. In April 2014, the Company celebrated its first-in-the-world achievement of having manufactured 100 million interchangeable lenses, and now, setting a new world record for the most interchangeable lenses produced, Canon manufactured its 150-millionth RF and EF lens in January 2021. Laid end-to-end2, all of the RF and EF lenses Canon has manufactured thus far would measure approximately 12,450 km in length—nearly equivalent to the Earth's diameter, which measures approximately 12,742 km.
Canon's proprietary EF lenses, launched in March 1987 along with the EOS SLR camera system, have continued to evolve since their introduction, leading the industry through the incorporation of a wide range of innovative technologies, including such world's firsts3 as the Ultrasonic Motor (USM), Image Stabilizer (IS) technology, and a multilayered Diffractive Optical (DO) element.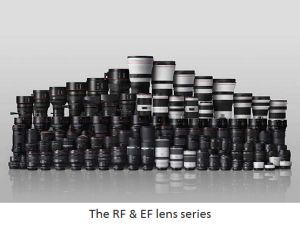 In 2018, Canon introduced the EOS R system and the RF series lenses, which pursues new heights of quality under the core concept of, "Speed, Comfort and High Image Quality." Today, the Company's extensive RF and EF lens series lineup currently comprises a total of 118 models4, expanding the possibilities of image capture. In addition, thanks to the support provided by its rich lineup of lenses, Canon has maintained the No.1 market share for digital interchangeable-lens cameras since 2003—a total of 17 years5—and in September 2019, the Company celebrated the production of 100 million EOS-series interchangeable-lens cameras.
Canon will continue refining its imaging technologies centered on its RF and EF lens lineup, striving to cater to the varying needs of photographers—from first-time users to advanced amateurs and professionals—while contributing to expanding the photographic and video imaging culture.
1 Includes EF, EF-S, RF, EF-M and EF Cinema lenses and lens extenders. As of February 3, 2021.
2 Calculated based the length of the lens' bodies. Based on Canon research.
3 Among interchangeable SLR camera lenses. Based on Canon research.
4 Includes four lens extenders. As of February 3, 2021.
5 In terms of market share by number of units sold. Based on Canon research.
Check Canon's website for more details