Rugged versatility and modular utility: new Lowepro Protactic line extension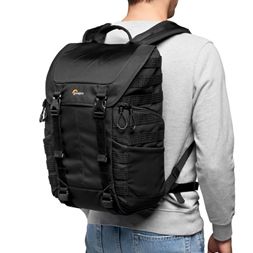 Your go-to collection for all your travel photography needs, the Lowepro ProTactic range combines practicality, modularity and versatility for today's advanced and professional photographers
SlipLock™ loop systemand tabs on all ProTactic carrying solutions make it easy to add ProTactic modular pouches and cases, creating your personal modular system
3-Point Access (BP 300 AW II) or 4-Point access (BP 350 AW II & BP 450 AW II) to your ProTactic so you can reach photographic and personal gear quickly and easily
ActivZone™ delivers targeted support at shoulder blades, lumbar and waist for all-day comfort on the move
With over 50 years creating protective gear-carrying solutions for professional and enthusiast image makers alike, Lowepro has unveiled the line-extension of the popular ProTactic collection, with 4 new carrying solutions that expand upon the rugged versatility and modular utility our original ProTactic series is known for.
Designed with the advanced and professional photographer in mind, the new entries to the ProTactic range are one Backpack, one Messenger, and two Toploaders delivering everything you want in a premium quality camera bags, from easy accessibility so you can grab your gear and never miss a shot, to versatile modularity and all-time protection. The collection is an extension of our existing Pro Tactic backpacks, and modular accessories, giving photographers an even wider choice.
ProTactic BP 300 AW II Backpack
ProTactic MG 160 AW II Messenger
ProTactic TLZ 70 AW Toploader
ProTactic TLZ 75 AW Toploader
Modularity – giving you all the options
The big advantage of the Lowepro ProTactic range is its modular utility. We know that you need a carrying solution that's flexible, strong, and resilient, but is also adaptable. So that's exactly what we've created. Our SlipLock™ loop system and tabs let you add the pouches and cases from the ProTactic range to your ProTactic Backpacks, Messengers, Toploaders and waistbelts, to carry even more equipment. Simply attach on one of our lens cases, utility and smartphone pouches, or even a water bottle holder, and you're ready to go.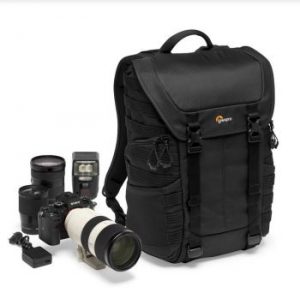 We took modularity to the next level in the new ProTactic BP 300 AW II backpack and MG 160 AW II messenger, adding the renowned removable QuickShelf™ divider system. Simply remove the entire divider to convert your photographic carrying solution into a handy everyday laptop backpack or messenger with larger storage space.
Lowepro's ProTactic modular system now includes 2 professional toploaders. ProTactic TLZ 70 AW and TLZ 75 AW are fully compatible with Lowepro ProTactic series BP 350 AW II and BP 450 AW II backpacks' belts. They can also be used as stand-alone solutions, and can be worn in multiple ways: in holster-style, with a chest harness and with the provided waist-belt. The ProTactic TLZ 70 AW expands to hold up to 24-70mm f/2.8, even with lens hood and portrait grip; and TLZ 75 AW expands to hold up to 70-200mm f/2.8 even with lens hood and portrait grip.
Accessibility and comfort
That perfect shot may be gone in an instant, so another thing that's mission-critical when it comes to equipment bags is accessibility. The Pro Tactic range makes sure everything is right there when you need: the 4-point access system which became popular in the ProTactic BP 350 AW II and BP 450 AW II, was replicated as the 3-point access system in the new ProTactic BP 300 AW II, for easily reaching your photographic gear from the double side access, and accessing your personal belongings and laptop from the top.
Comfort is a priority for full-time photographers. That's why we included The ActivZone™ system in our new ProTactic BP 300 AW II and MG 160 AW II, for delivering targeted support at the shoulder blades, lumbar and waist for comfort on the move, no matter how much you load up your bag. A structured back panel allows the air to circulate for all-day comfort and ventilation, even in hot conditions.

For an even enhanced comfort and stability, the new ProTactic BP 300 AW II features a chest strap, and the new ProTactic MG 160 AW II features an easily adjustable shoulder strap for wearing your bag in 3 ways: high on shoulder for agile movement, cross body with a stabilizer strap, great also if you're riding a bike, or low on the hip for easy lens swapping.
The full ProTactic range presents a comprehensive collection of backpacks, messengers, toploaders and modular accessories meeting the needs of all advanced and professional photographers, who seek 100% photographic bags and also everyday carrying solutions for laptop and personal belongings. Made from rugged, tough materials and finished to an exceptionally high standard, ProTactic is your camera bags of choice.
| | | | | |
| --- | --- | --- | --- | --- |
| MODEL | ProTactic TLZ 70 AW | ProTactic TLZ 75 AW | ProTactic MG 160 AW II | ProTactic BP 300 AW II |
| FIT | Expands to hold up to 24-70mm f/2.8 and lens hood with portrait grip | Expands to hold up to 24-70mm f/2.8 and lens hood with portrait grip | Pro DSLR with standard zoom lens attached + DJI Mavic pro with transmitter and charger | Sony Alpha 9 with 70/200 mm F2.8 lens attached + 2/3 additional lenses |
| EXTERNAL DIMENSION | 20 x 19,5 x 26 cm (L X W X H) 7,9 x 7,7 x 10,2 in (L X W X H) | 20,0 x 19,5 x 35,5 cm (L X W X H) 7,9 x 7,7 x 14 in (L X W X H) | 40,0 x 17,0 x 28,0 cm (L X W X H) 15,7 x 6,7 x 11,0 in (L X W X H) | 33,0 x 20,0 x 44,0 cm (L X W X H) 13,0 x 7,9 x 17,3 in (L X W X H) |
| SKU | LP37278-PWW | LP37279-PWW | LP37266-PWW | L37265-PWW |
| SRP | £69.95 | £79.95 | £115.95 | £159.95 |
The Lowepro ProTactic full collection is available now at www.lowepro.com/uk-en/collection/protactic/ and authorized Lowepro dealers.