Contactless prints – and much more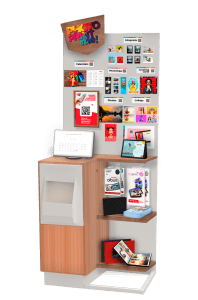 The days of ordering enlargements from a contact sheet on the counter are long gone – and in the post-Covid-19 rebirth of the photo trade, it's 'no contact' which will win customer confidence.

Mitsubishi Electric has updated the acclaimed PhotoPrintMe Wall point of sale system to reduce the use of touch screens and offer a store branded web shop with click and collect. Personal collection counts as people return to work and won't be wanting to wait for deliveries and returns vital footfall to retailers.

Customers can order from desktop, laptop, tablet or phone, reassured by a new secure credit card payment method

PhotoPrintMe Wall with optional extension in your retail space enables you to offer prints up to 6 x 20" panoramic, on demand, along with a full range of greetings cards, calendars, bookmarks, photo strips, albums and miniprints previewed on your customer's device.

Free standing and sized to integrate with slotwall retail shopfitting, the Mitsubishi Electric PPM Wall needs no other display or counter units and uses just one 13 amp socket. It holds the complete printing system and order terminal with shelves and hangers to display sample products.

A bespoke QR code takes customers straight to a colourful on-line catalogue of products to create at home, at work, when commuting or on the spot. A photographic printing service 24 hours a day. Cleverly predesigned seasonal campaigns throughout the year will increase sales and secure pre-payment eliminates cash handling. The choice of store collection or potential mail delivery keeps social distancing working – and your cashflow flowing.
You can find much more on the whole Mitsubishi Electric printing range at www.mitsubishielectric-printing.com or by emailing vis.mailing@meuk.mee.com