• CosySpeed introduces world's first modular pouch system designed for demanding smartphone photographers, filmmakers, mobile journalists, citizen reporters, bloggers, vloggers, influencers and travellers
• PhoneSlinger protects and organises multiple accessories including lenses, chargers, gimbals, tripods, microphones, with quick access at all times
• 'Power' model includes integrated charging via QI-Wireless power bank
• SGS-certified, ethically-produced, eco-friendly and suitable for vegans
A unique and versatile way of organising, carrying, powering and protecting mobile equipment has been launched by accessories specialist CosySpeed. Available for the first time in the UK, the modular PhoneSlinger pouch system offers practicality and convenience, allowing smartphone photographers, filmmakers, journalists, vloggers, bloggers, influencers and travellers to store multiple accessories alongside their phone, and provides quick and easy access to everything they need, whenever they need it.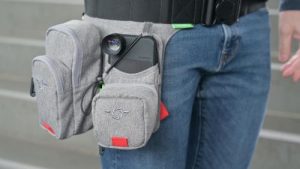 Built with integrated Polyethylene (PE) plates, protective soft lining and weatherproof D600 nylon material, the PhoneSlinger pouches safeguard valuable smartphones and accessories from the elements and the risk of damage during day-to-day activities. The patented magnetic closure secures the contents of the pouches, and allows quick one-handed access. With the PhoneSlinger Power and Outdoor models, a hidden inner pocket offers additional space for important items such as ID and credit cards.
Made from ethically-sourced materials with environmentally-friendly production processes, all CosySpeed products have been SGS-certified for fair working conditions during manufacture and are suitable for vegans.
Thomas Ludwig, managing director of CosySpeed, said, "Building on our experience with professional camera accessories, we developed the PhoneSlinger concept to meet the demands of smartphone photographers, broadcasters, journalists, vloggers and filmmakers. These expert users now carry multiple accessories and attachments such as gimbals, tripods, chargers, microphones and lenses, and need to access them in an instant – that's where PhoneSlinger excels. Each component of the system has been designed for maximum convenience, while affording ultimate protection from knocks, drops or adverse weather."
The PhoneSlinger Power incorporates a QI-Wireless power bank with 10,000MAH capacity, which automatically charges the smartphone up to twice, wirelessly or via USB.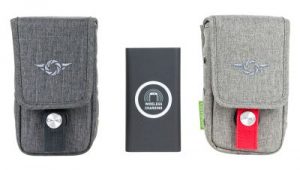 For those who work with lens attachments, the PhoneSlinger Prime accommodates up to four smartphone lenses, with rapid access when needed.
The PhoneSlinger Outdoor has been reinforced to provide further protection for valuable items, shielding them from bumps or falls during outdoor activities such as climbing or downhill biking.
The CosySpeed PhoneSlinger StuffBag safely carries useful, smaller items such as cables, Airpods/earbuds, keys, credit cards, microphones and a host of other accessories, stowing them securely until required.
All PhoneSlinger pouches can be attached to any belt, or the optional CosySpeed FlowBelt strap, which incorporates an integrated, double-secured belt loop. The FlowBelt can be worn over the shoulder, as well as at the hip, and offers two attachment points for the smartphone pouches. Its robust security closure can only be opened with both hands. ID card, credit cards and passports can be stowed away in the hidden zipped pockets. Built-in PE plates provide high wear, comfort and stability, additional D-rings allow for accessories to be attached. With special loops and thigh straps, the FlowBelt can also be fixed to the thigh, ideal for activities such as mountaineering, jogging or riding.
An optional BeltPad extends the system and creates additional attachment points on the FlowBelt. The BeltPad can also be used separately to attach the smartphone and accessory pouches to the belt in a lower position. This is particularly useful when wearing a longer sweater or jacket which would normally prevent access to the pouches.
The full CosySpeed PhoneSlinger range is available from GadgetBag.co.uk, Amazon.co.uk and authorised UK stockists.