HOYA Launches all-new ProND Graduated Filters
The dynamic range of camera sensors remains very different to the human eye and often struggles to faithfully reproduce impressive scenes due to excessive differences between shadows and highlights.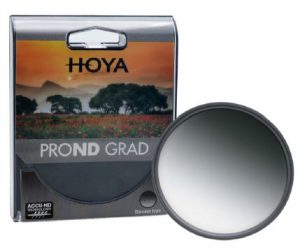 HOYA's new ProND Graduated filters help to overcome this by balancing the luminosity in a scene, especially useful with landscapes, where skies often end up burnt-out or foreground details lost in shadow. Even though post-production methods are able to darken burnt-out skies, this still requires rich pixel data in the bright areas to be preserved, otherwise the effect can look terrible. HOYA's ProND Grad filters help to preserve all the required rich pixel data, for photographers wanting to achieve the best results in the field, to the extent where post-production is often not necessary.
A wide range of Grad ND filter brands already exist, in square or rectangular formats, but these require lens adapters and tend to be bulky and expensive. HOYA's ProND Grad filters are round, screw-in type and offer many advantages over other Grad ND filters. They use extremely high quality optical glass and are compact, easy to carry and attractively priced. They offer completely neutral colour-balance, thanks to HOYA's special ACCU-ND coating technology. Anti-reflection and water repellent coatings enable high performance in harsh outdoor environments and a front thread allows combination with other filters as well as the ability to accept lens caps.
Rather than having to choose between hard and soft graduation, HOYA ProND graduation is 'blender' style, with a smooth, continuous transition from dark to clear across the whole filter. A blender type filter is highly versatile and can be used in a variety of situations, especially when the scenery and horizon have a complex or uneven structure. There is a slim rotating frame, made from aluminium alloy, for precise positioning of the graduated ND area and a special marker on the rim, showing the point of deepest density.
The new HOYA Pro ND Graduated filters will be available in 77mm and 82mm diameters, with a choice of ND16 and ND32 densities. Stock is due to arrive into UK HOYA stockists during July 2020 and suggested retail prices will range from £110 to £160 (inc. VAT).
Full information about HOYA products and stockists can be found on the official distributors' website: intro2020.co.uk