Time to reflect. Rory Lewis announces Selah – a new portrait exhibition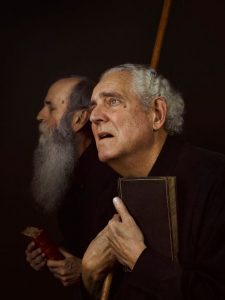 Unseen portraiture from renowned British photographer based on the theme of 'Selah'
A brand new body of work that recreates meditative and thought-provoking scenes, while revealing the underlying vulnerability of each subject
24 images to be exhibited at Wex Photo Video Gallery in Whitechapel, London from 3 to 30 April 2020
5 February 2020: Celebrated British photographer Rory Lewis will exhibit a previously unseen body of work from 3 to 30 April 2020 at the Wex Photo Video Gallery in London.
Entitled Selah, the collection is inspired by the Hebrew word, which appears throughout the Book of Psalms. Its precise meaning is mysterious, but it is interpreted as a pause to breathe and reflect.
Winner of the 2019 Portrait of Britain Award, Rory Lewis is a dedicated portraitist who has spent 15 years capturing many of the world's most recognised faces. Several of his iconic portraits have been acquired by the National Portrait Gallery in London.
According to Lewis, Selah's foundations are in counter-reformation art. "I have been greatly influenced by Renaissance Italian art in my portraiture, such as the work of the Old Masters including Rembrandt, Caravaggio, Titian and, in particular, Ribera. With Selah, I have attempted to faithfully recreate the light, atmosphere and tones of classical portrait paintings. It has been my aim throughout the project to reproduce meditative religious scenes, directing my subjects to capture the highest moment of drama, while exposing a quiescent vulnerability or fragility in their character at the same time," explains Lewis.
The exhibition will feature portraits of actors and personalities from both the UK and USA, including James Purefoy, Dame Judi Dench, James Cromwell, Sir Patrick Stewart, Ciarán Hinds, Tony Amendola, Peter Van Norden, Frank Weitzel, Tess Harper, Mark Margolis, Anna Passey, Anthony McPartlin, Declan Donnelly, and many more.
Tiffany Tangen, events manager at Wex Photo Video, said, "It's a privilege for us to welcome Rory back to our London gallery, presenting this thought-provoking collection for the very first time. We look forward to opening the doors to this inspiring new exhibition, which showcases legendary figures from across theatre, TV and film portrayed in a most extraordinary style."
Rory Lewis is an official Bowens ambassador. He shoots with a Canon EOS 5D Mark IV, coupled with Bowens flash heads and modifiers, along with some Calumet accessories.
Selah – The Exhibition is presented in association with EPSON. The portraits will be printed on A2 and A0 EPSON Premium Luster media mounted on foam board. Limited edition prints of a selection of the images on display will be available to purchase from Wex Photo Video throughout the exhibition period.
Exhibition venue:
Wex Photo Video Gallery
37-39 Commercial Road, London E1 1LF
Tel: 020 7380 1144
Nearest tube: Aldgate East
Opening hours can be found here. Entry is free of charge.