Samyang Launches World's First AF 14mm F2.8 for Canon RF Mount
Global optics brand Samyang Optics has announced the world's first 'AF 14mm F2.8 RF' specifically designed for RF mount. Samyang Optics, known for its wide-angle lenses, packs 113.9 degree ultra-wide angle and excellent optical performance into a compact lens designed for mirrorless cameras.
The World's First AF 14mm F2.8 for RF mount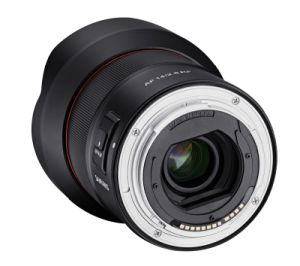 Samyang launched the first manual focus lenses for RF mount (MF 14mm F2.8 and MF 85mm F1.4) in February to meet consumer demand for lenses to fit Canon mirrorless RF cameras and now this new AF lens follows in its footsteps. Samyang Optics, which first introduced autofocus lenses for Sony FE mount in 2016 and in the 3 year since, it has become known for being the world's first third-party lens manufacturer to release lenses for new camera mounts, making it one of the world's leading companies in the global lens industry. In 2018, Samyang also launched autofocus lenses for Canon EF mount and Nikon F mount. The new RF lens has been added to the line-up as the Canon RF mirrorless camera market grows.
Outstanding Performancefrom the Master of Wide Angle Lens
From the world-renowned master of wide angle lenses, Samyang's AF 14mm F2.8 RF has 14 lens elements in 10 groups, with 6 special elements including 3 aspherical, 1 high refraction and 2 extra-low dispersion elements. These special optics provide minimum distortion and outstanding image quality from corner to corner, with 113.9 degrees of wide angle. Also the 7 aperture blades create soft and circular bokeh with sharp light-rays.
Light and Compact Mirrorless AF Lens
Previously, Canon RF camera users had to put an RF adapter onto their Canon EF lens to enjoy a 14mm wide-angle, making a size and weight that is not ideal for use with a mirrorless camera. The new Samyang AF 14mm F2.8 RF is designed exclusively to prioritise the user experience of mirrorless cameras. As a result, the length of the flange back was reduced and so the length and weight of the lens were also lowered to maximise the handling experience. Also minimised is the weight of the focusing system, for fast and accurate AF performance.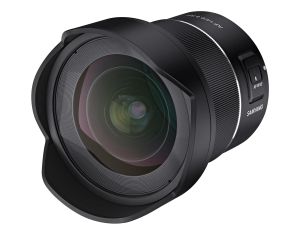 User-oriented Lens Device Design
The new lens is equipped with a switch that allows easy changing between AF and MF when manual focus is required, or for fine adjustments. Dust and moisture resistant weather sealing ensures a more secure experience under outdoor conditions. There is also a rear filter holder on the mount to create more diverse images and a new Lens Station which allows USB updating of firmware and other lens settings.
Available in November
The Samyang AF 14mm F2.8 RF lens will become available during in November 2019 with a suggested retail price of £629 (including VAT).
More detailed information about the product can be found on the official Samyang Optics website: www.samyanglensglobal.com