The winners of The Royal Photographic Society's Science Photographer of the Year competition have been chosen.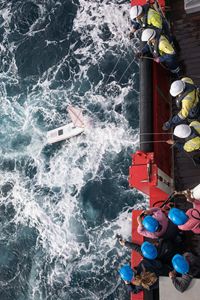 Science Photographer of the Year has been awarded to South African Morgan Trimble for her image entitiled 'Launching a Mini Boat'. This photo shows a tiny vessel being released to monitor ocean currents and the wind in order to research and educate about climate change.
Young Science Photographer of the Year (under 18 years old) has been awarded to Jason Chen of the USA. Jason's photograph, titled 'Growl', shows an instructional dog model which was on display at his local veterinary school. Jason is 17 years old, and lives in San Jose, California.
Summing up the mood of the judges, competition co-ordinator Gary Evans said, "Morgan's image is beautifully composed and taken from an unusual perspective. The water is turbulent and the vessel is small, thus highlighting an element of danger. Above all, this picture tells a really strong science story."
"Jason's entry showed a level of photographic maturity well beyond his years. The composition is good and his unusual take on a familiar item makes his image even more interesting."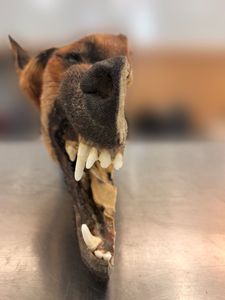 Both winners have been awarded a gold RPS medal.
The winners will form part of an exhibition of 70 of the top images entered into the competition this year which will be displayed at the Science Museum in London from 7 October 2019 until 5 January 2020 and will then tour the UK next year.
The free exhibition will be held on the second floor of the Science Museum's iconic building on Exhibition Road, London.
The expert panel of selectors were TV Presenter Dallas Campbell, the Science Museum's Roger Highfield, Designer, Materials Engineer and TV Presenter Dr Zoe Laughlin and Medical Imaging Expert Catherine Draycott FRPS.