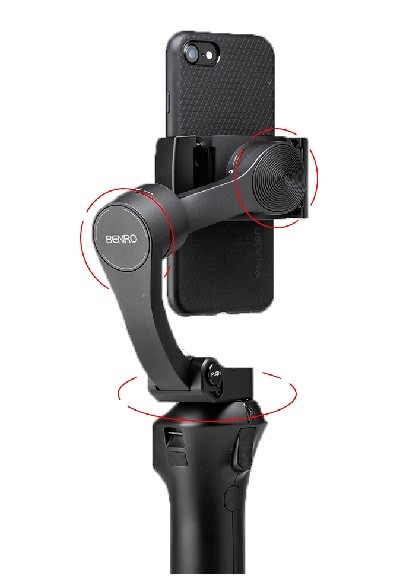 Benro, a world leader in camera stabilisation, today announces the 3XS Lite, a smartphone gimbal stabiliser that will vastly improve smartphone photography and videography performance. Ideal for vlogging on the go, or capturing live action shots, the gimbal will prove to be a game-changer for anyone relying on their smartphone for capturing high-quality content.
The 3XS Lite has been designed to deliver perfectly smooth content that looks like it could have been professionally shot, under even the most challenging conditions. For vloggers filming themselves on the go; sports fans capturing live action or film and photography students shooting creative content, the 3XS Lite will keep content smooth and seamless at all times.
The 3XS Lite has been designed to work harmoniously with a smartphone. Its 'barrier-less' smartphone clamp makes balancing easy, just slide the smartphone left or right until the handset is balanced. This also allows users to retain access to their smartphone's charging and audio ports during use of the gimbal. A single button enables users to switch from portrait to landscape orientation and back again; no more fiddling to switch between the two. The camera shutter, video record, zoom and focus functions can also be accessed directly from the gimbal handle. What's more, an external microphone can be fitted with no compromise on performance to achieve sound quality that matches visual performance.
Weighing just 430g and compact enough to carry in a handbag or jacket pocket when folded, the 3XS Lite can be a constant companion for users who don't want to miss a moment of the action. It can be unfolded and ready to go in a matter of seconds.
Mark Hoskins, Brand Manager, Benro said, "The 3XS Lite is one of the smallest gimbals on the market, but despite the small size it is not small on features. It boasts all of the features of the competition and more, its folding design makes it easy to carry, it's lightweight and even has the ability to run an external microphone – something you wouldn't expect to see on a gimbal of this size."
The 3XS Lite companion app empowers users with a host of high-end creative options. It can be used to create multi-shot panoramas, beautiful time-lapse images with dynamic motion or object tracking, or set to automatically track faces or objects. It can also be used to precision-tune the gimbal, for calibration and updating of firmware.
Ideal for most smartphones weighing up to 290g, it features a 2000 mAh capacity battery which provides up to 24-hours of run time – the 3XS Lite will keep up with the most extensive days of shooting.
The Benro 3XS Lite handle has a ¼" threaded hole for mounting to a tripod which allows the gimbal to be used hands-free during panorama or motion time-lapse modes as well as during object or face tracking modes.
The Benro 3XS Lite Smartphone Gimbal is available from Benro Authorised Stockists priced at £90 RRP. For more information visit www.xseries.benrogear.com